Show or Hide Live Chat on Specific Pages
Show or Hide Live Chat on Specific Pages

By Jitta Rao
updated 11 months ago
You can change the messenger settings to show, hide, or turn off the Gist chat messenger.
If you install Gist on your website, the live chat messenger will be automatically installed and will be visible on all pages by default.
if you would like to change this and hide the messenger or certain pages, then you can do so in the Settings page.
This comes in handy if you want to show the live chat messenger only inside your app page and not on the home page, or hide it on your website and blog but show it on specific landing pages.
Show or Hide Live Chat to Specific User Groups
You can choose to display the Gist messenger only to specific user groups, and hide it for everyone else. To do this:
Go to the Messenger Settings menu on the Settings page, and choose who should view the live chat messenger. If you choose both, everyone will be able to view it everywhere on your website.
If you choose 'Users', only paid users will be able to view it everywhere on your website.
If you choose 'Visitors', only visitors will be able to view it everywhere on your website.
Remember that this step still does not hide the messenger on specific pages. To do that, you need to add enabled paths.
Enabled paths can be used to show the chat messenger on specific pages on your site and hide it everywhere else.
Go to 'Enabled Paths' in 'Messenger Settings' and add all URLs of pages on your site or app where you would like the chat messenger to be visible.
Any URL that is not included in the list will not show the messenger button.
If you don't add any paths, the messenger is visible on all pages of your site.
For example, you can choose to show the messenger only on your plans page, by adding '/plans' and clicking on 'Add Path'. You can add as many enabled paths as you want, and the chat will be shown on all these pages, and is hidden from the rest.
Turn off the chat messenger on all pages
If you wish to not display the chat messenger on your site all, and want to disable it on all pages, you can go to the Messenger Configure settings and turn off the switch.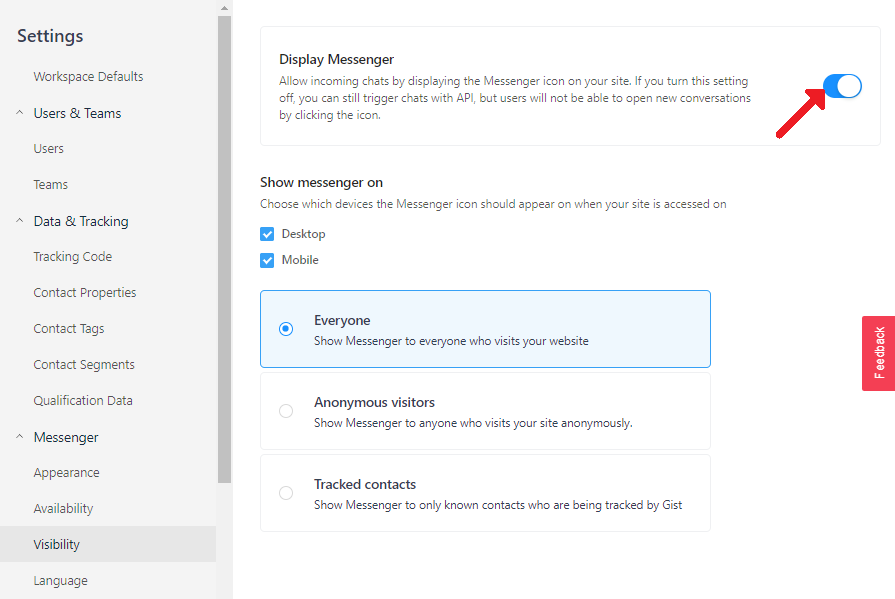 Show or hide chat messenger using Javascript
The Gist JavaScript library provides a Gist JavaScript object that responds to a few methods that allow you to update users without a page refresh and interact with the message window. Here is a guide to using the JavaScript API.
---
Need Help?
If you have any further questions, please start a Live Chat. Just "Click" on the Chat Icon in the lower right corner to talk with our support team.
Did this answer your question?