We are thrilled to introduce the AI Assistant for Inbox, powered by OpenAI's GPT-4 technology! This tool reduces cognitive load and stress on support agents while providing customers with faster, high-quality answers.
Key Benefits
Time-saving: Significantly cuts down the time required for message creation and review, allowing Support reps to handle more customer interactions.
Consistent Messaging: Ensures that every customer communication is not just correct but also effectively matches your brand's tone and style.
Multilingual Support: Seamlessly interact with an international customer base by overcoming language limitations.
Actionable Insights: Identify unresolved tasks within a conversation for immediate attention and follow-up, ensuring that nothing falls through the cracks.
Streamlined Handovers: Simplify the transfer of conversations between team members by offering insightful summaries and action points, eliminating the need for the receiving rep to sift through lengthy past conversations.
Enhanced Customer Experience: Deliver quicker, more precise, and highly personalized responses, creating a superior customer service experience.
Keyboard Shortcut
To activate the AI Assist options, use the keyboard shortcut ⌘ + J (Mac) / Ctrl + J (Windows).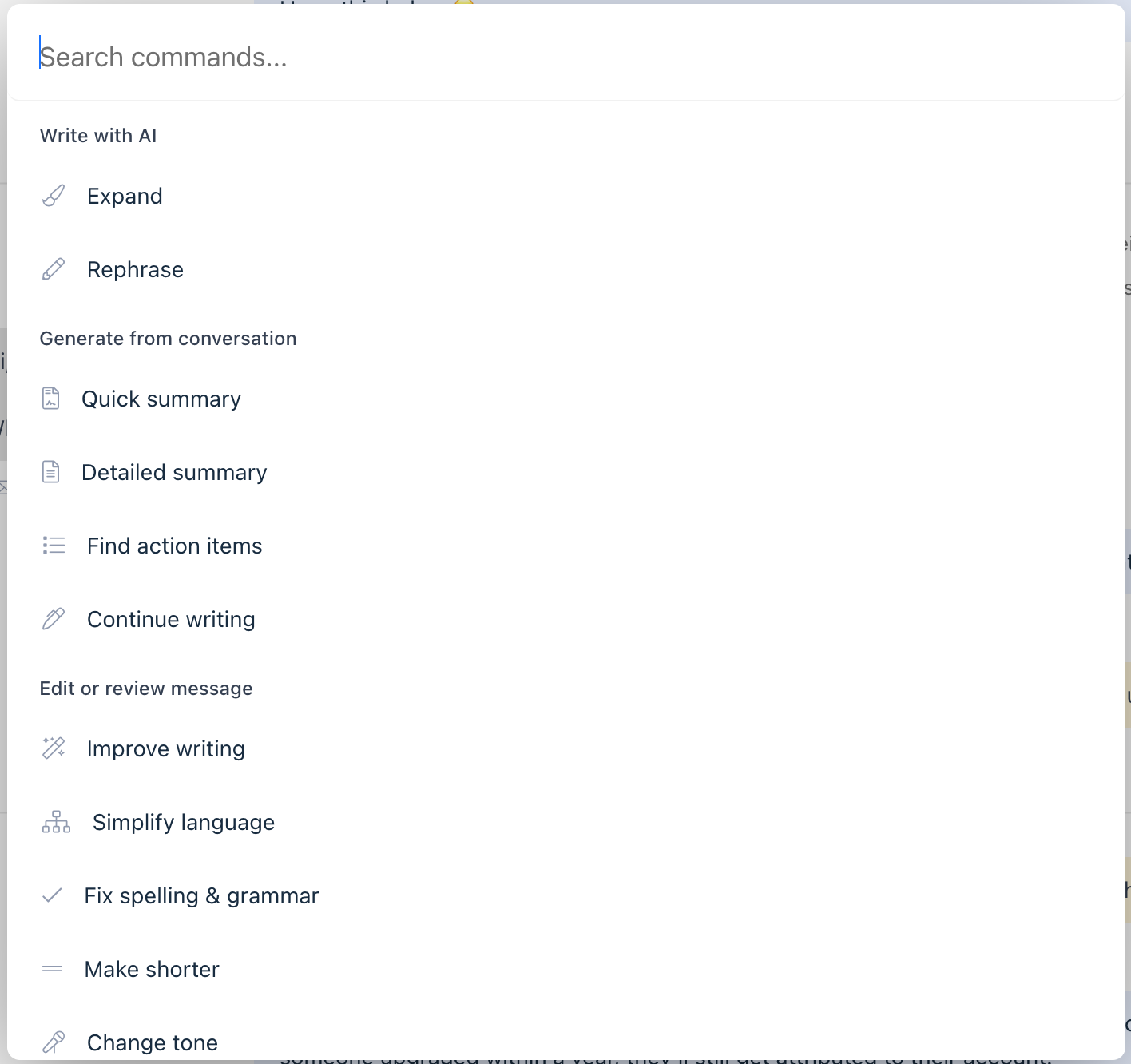 Expand or Rephrase
Write shorthand customer responses in the Gist Inbox and let the AI generate a complete suggested or rephrased message.

Expanded text

Summarize
Create an AI-generated summary of a customer conversation in the Gist Inbox.

Find action items
Automatically identify pending action items in the conversation.

Fix spelling & grammar
Automatically correct grammatical and spelling errors in your message draft.

Corrected text

Improve writing
Elevate the language, flow, and consistency of your message draft.

Transformed text

Make shorter
Condense your message draft while keeping the essence and key points intact.

Shortened text

Change tone
Automatically rephrase or change the tone of your message with one click to be more casual/friendly, or formal, depending on what suits your business or the situation.

Friendly tone

Translate
Translate your message draft into a different language, such as French.

Translated text

---
Need Help?
If you have any questions, start a Live Chat. Just "Click" on the Chat Icon in the lower right corner to talk with our support team.