We've put together a collection of example rules used by our customers. You can apply these rules in your workspace as they are, or customise them for your specific workflows. Or just use them as inspiration for more rules you can create to make managing your inbox effortless. 😉
Mark as priority and assign the conversation when a high spend customer starts a new conversation: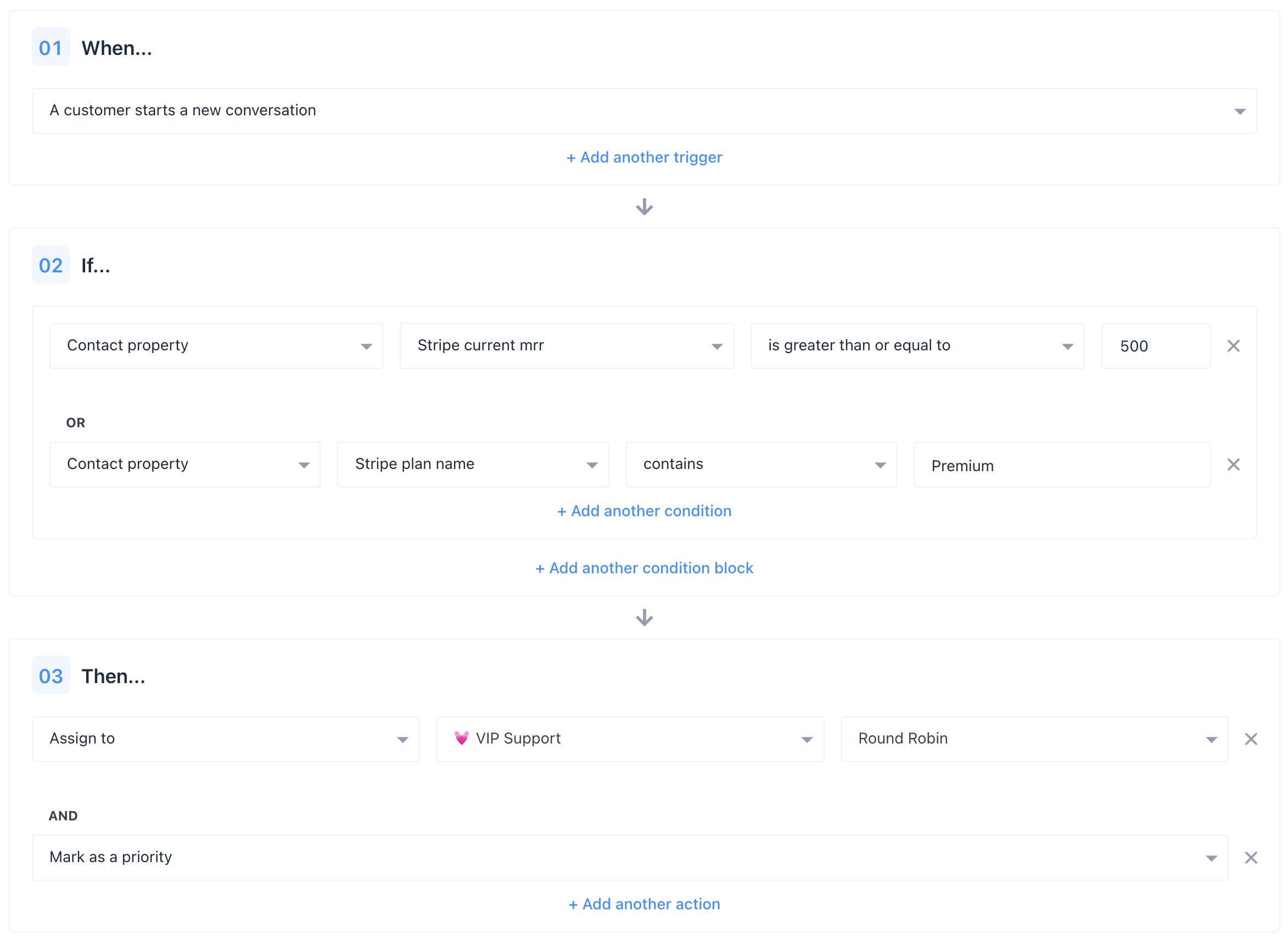 This example uses 'Or' filtering to target conversations from customers who spend over 500 a month, and those on the 'Premium' plan.
Prioritize conversations about bugs or errors that haven't received a reply: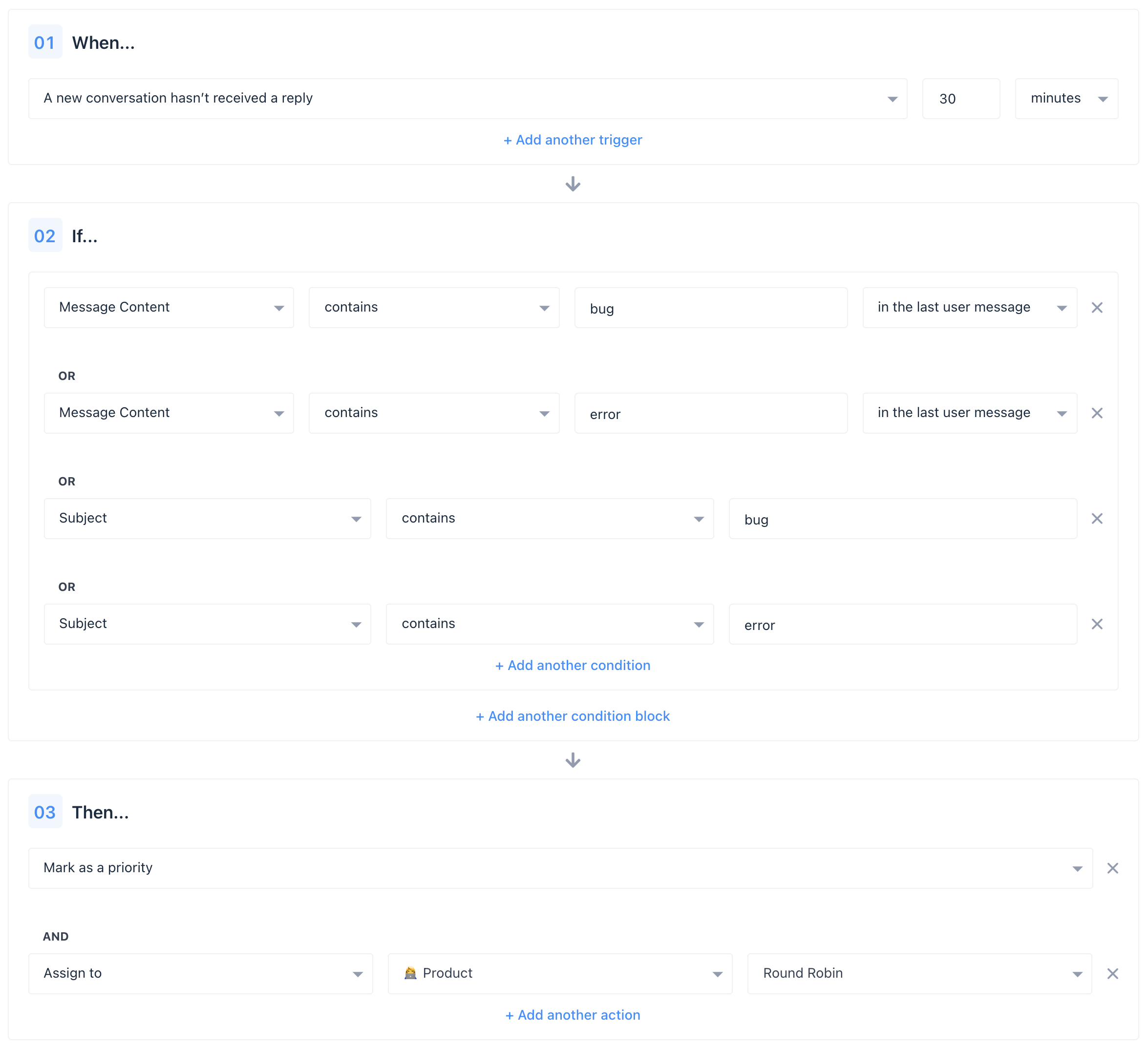 This example looks for keywords in the message content or email subject, and gives your team 15 minutes to reply before marking the conversation as priority.
Tag conversations for replies to outbound messages and bots
This example tags all conversations that occur on certain pages of your website, which are in response to outbound content. This makes it simple to group them together in your reports, or Inbox views
Auto-reply to customers waiting for more than 5 minutes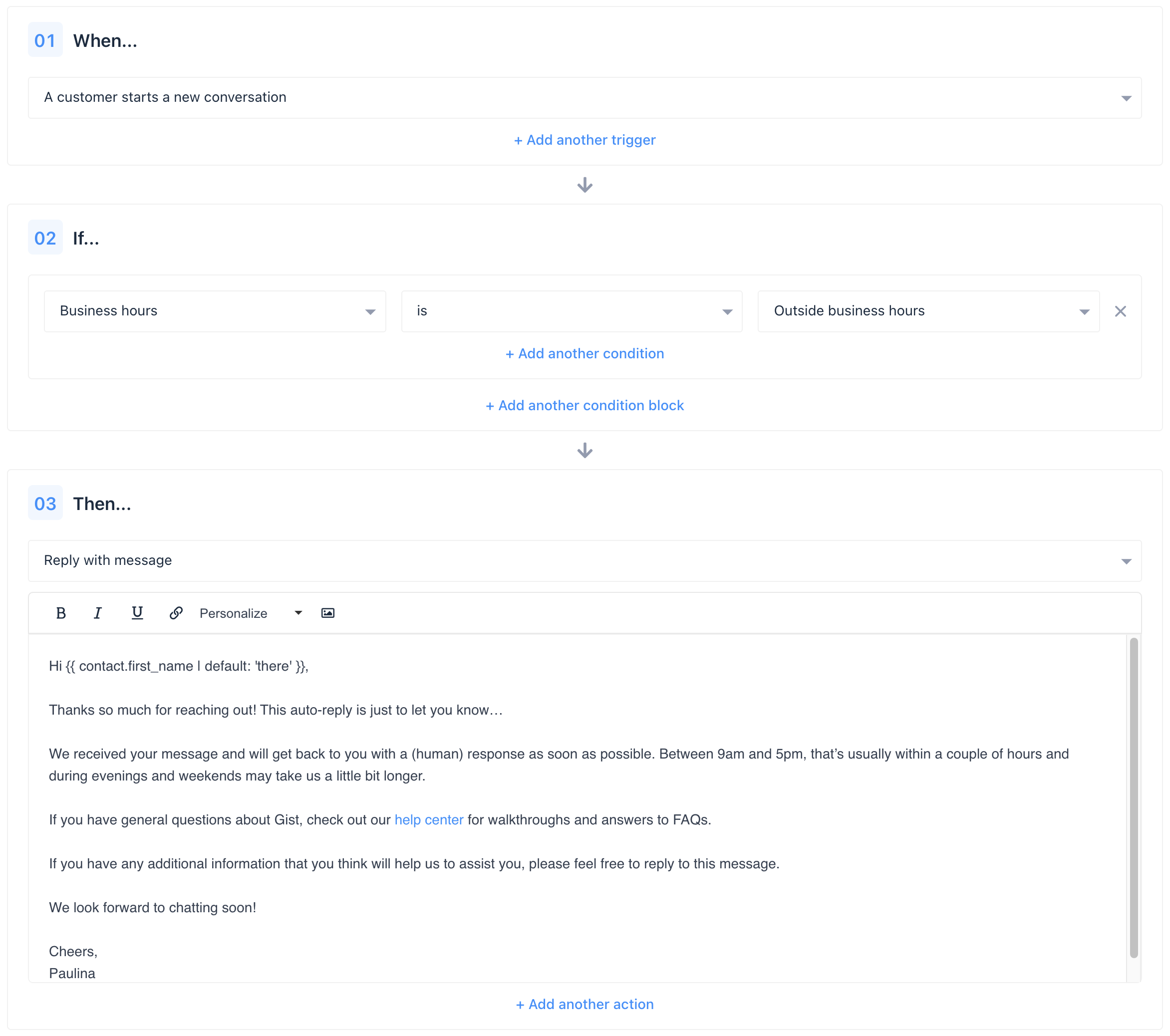 Send an immediate reply to your customer so they know you're getting back to them soon. Set up a rule to automatically reply to your customer with one of your canned responses.
Create two separate rules to handle both live chat support, and asynchronous conversation
This example is a combination of two rules, showing how conversations can be reassigned for the best experience.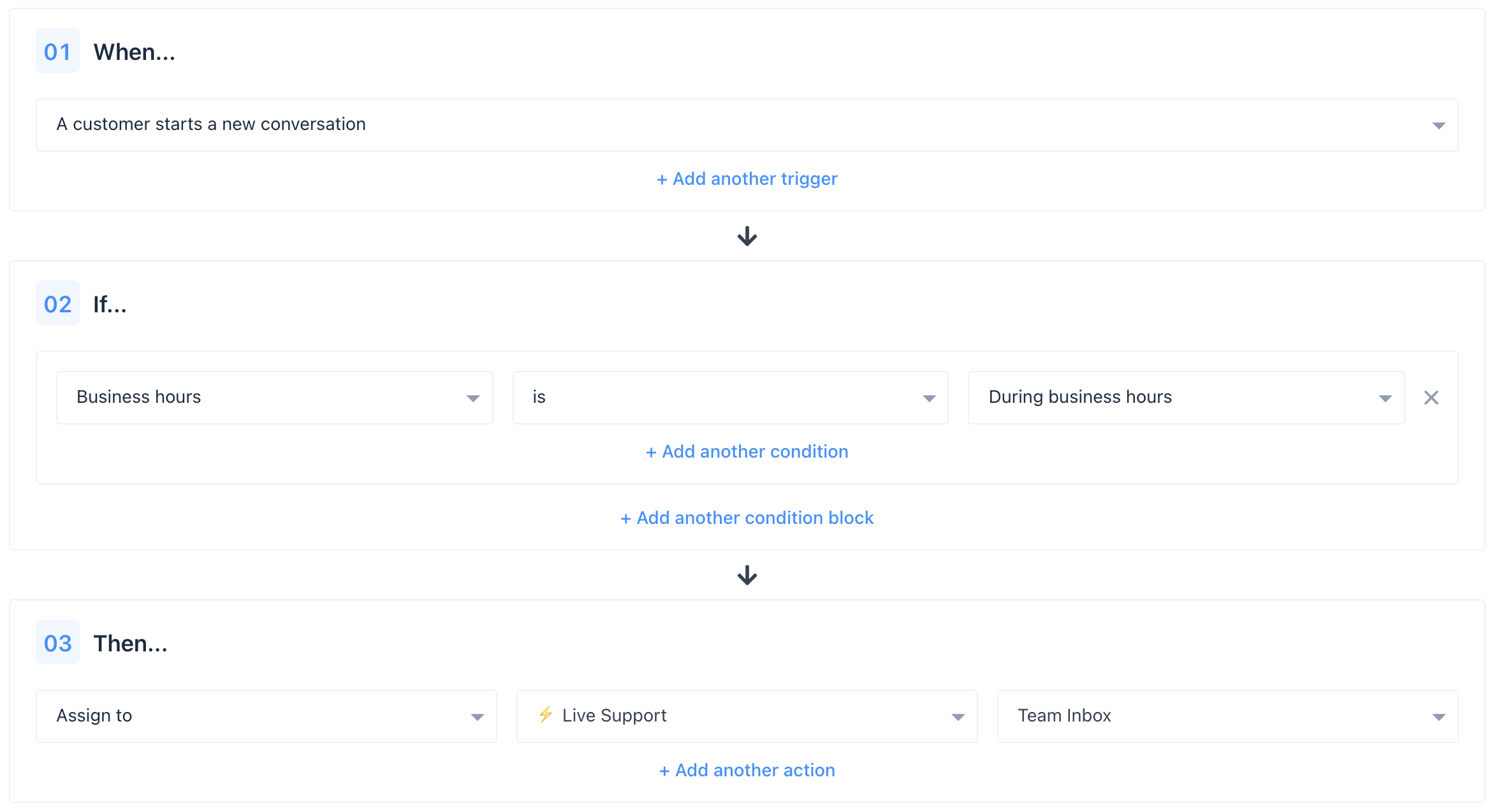 The first rule assigns all conversations started during office hours, to a team focused on providing live chat support. 👆 The urgency filter matches any conversation except those that are low priority, which are assigned to the second team.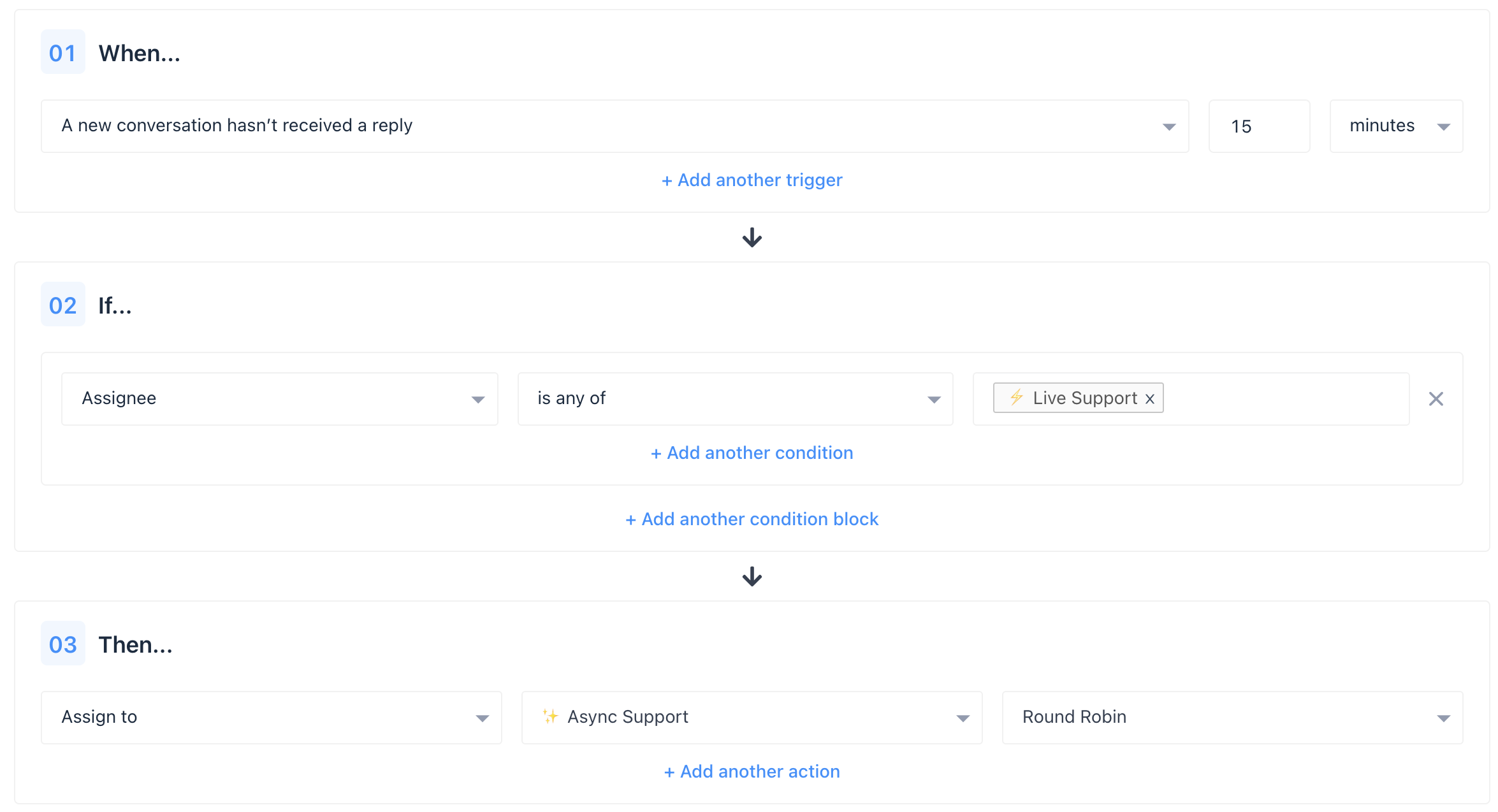 The second rule monitors for conversations assigned to the 'Live chat' team which haven't received a reply after 5 minutes. These are then assigned to the second team to be handled in a more asynchronous way. The rule also tags those conversations so it's easy to report on how often this occurs, and how those conversations are handled.
---
Need Help?
If you have any further questions, please start a Live Chat. Just "Click" on the Chat Icon in the lower right corner to talk with our support team.