It's easy to get alerted when various actions or activities happen in your Gist Inbox. You and your teammates can set up and control the notifications you'll receive from Gist so you won't miss out on any important conversations.
To set up your notifications:
In your Gist workspace, navigate to Settings from the main navigation bar.
In the left sidebar, navigate to Your Preferences > Notifications.
Gist sends you three different types of notifications. You can choose and check the boxes where you would like to get notifications whenever a new message is received.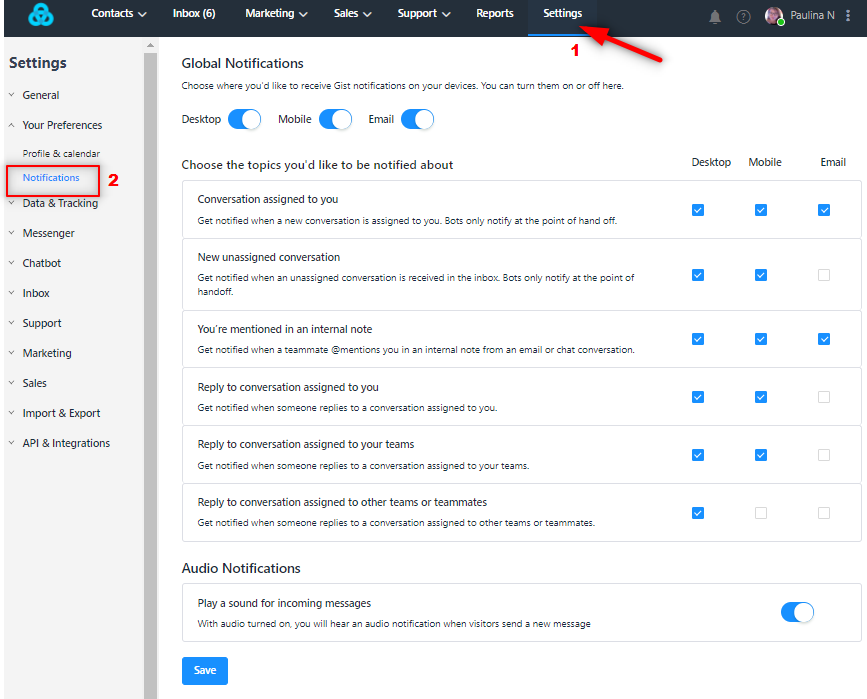 Desktop notifications
These are sent immediately.
Make sure you have at least one browser tab with Gist opened.
If you aren't receiving desktop notifications, click the padlock icon in the browser's address bar, and in the popover that appears, make sure both Sound and Notifications are set to "Allow".
If you're using Chrome, you can check these settings here: chrome://settings/content/notifications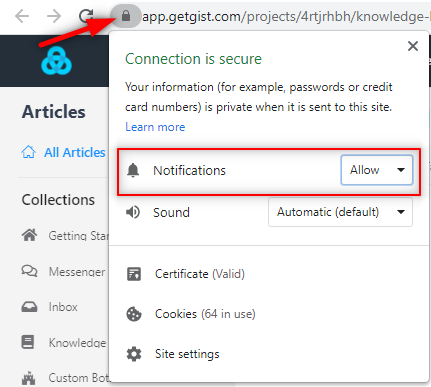 Mobile notifications
An instant push notification to your phone as soon as you receive a new message from someone on your site.
If you do not have our app installed yet, you can download them here:
iOS - https://itunes.apple.com/us/app/gist-live-chat/id1295111221
Android - https://play.google.com/store/apps/details?id=com.gist.android&hl=en
If you are not receiving mobile push notifications, be sure to check the Notification settings on your mobile device and confirm the Gist app notification is on.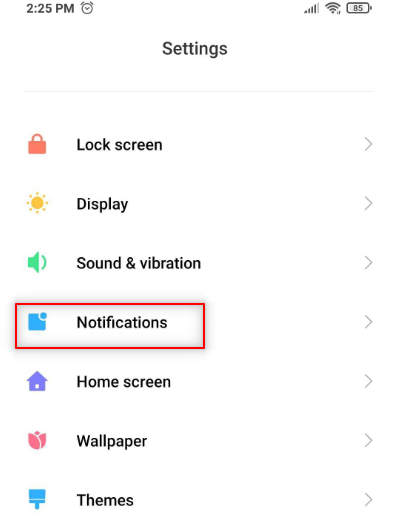 Email notifications
We wait for two minutes before sending an email notification to you. This is to make sure you are not bombarded with multiple emails for each new incoming message. Instead, you'll receive a single email with all user messages when no one on your team 'sees' the message within 2 minutes.
Please note that the email notification will only be sent to those agents who are inactive for more than 600 seconds (10 minutes). If the agent is active, they will not receive the email notification.
You and your users can continue the chat conversations by replying to the email notifications. All email replies sent to the email notifications will be sent to you and your users as chat messages.
To learn more about how your users get notified whenever you or anyone from your team replies to their message, you can check out this guide here.
---
Need Help?
If you have any questions, please start a Live Chat. Just "Click" on the Chat Icon in the lower right corner to talk with our support team.