How do notifications work on Gist?
How do notifications work on Gist?

By Jitta Rao
updated 11 months ago
Notifications are an important part of Gist. Whenever your users send messages to you via chat, you can set Gist up in a way to send you notifications across platforms so you don't miss out on any important conversations.
Each of your teammates on Gist can go to their Profile settings and choose when and where to be notified of new conversations with visitors and customers.
Gist sends you three different types of notifications.
Web notification - an instant browser popup notification accompanied by a notification sound. Note that you only get browser notifications if you have at least one browser tab where your current Gist project is open. We do not send desktop push notifications and only notify you via your browser, so it is important that you keep a tab with Gist open in order to receive web notifications from your project.
If you do not get any notifications on your browser, check if the corresponding box is not checked. If it is checked, then check if you have disabled all push notifications on your browser. Most browsers give you an option to disable browser notifications so you may have disabled them in the past. If you would like to be notified again, you can change your browser's notification settings and allow all notifications from Gist.
For example, if you're using Chrome (recommended), you can check these settings here: chrome://settings/content/notifications
Mobile Notification - an instant push notification to your phone as soon as you receive a new message from someone on your site. Note that you only get mobile push notifications if you have our mobile app installed.
If you do not have our app installed already, you can download them here:
iOS - https://itunes.apple.com/us/app/gist-live-chat/id1295111221
Android - https://play.google.com/store/apps/details?id=com.gist.android&hl=en
If you are not receiving mobile push notifications, be sure to check notification settings on your mobile device.
Email Notification - a slightly delayed notification sent to your email address (registered with the corresponding Gist project). While browser and mobile push notifications are sent instantly, email notifications are delayed by 2 minutes. This small delay is maintained in order to ensure that you receive multiple messages sent by a user within a single email, instead of a separate email for every single message.
For instance, if a user on chat sends you 'Hello' and then immediately 'I need help', we make sure that you receive both the message texts in a single email, instead of two separate emails (which would be the case if emails are sent instantly). This makes it easier to read and respond to user's messages and avoids fragmenting the message every time there is a line break.
Also, we realized it would be very annoying to receive dozens of emails for multiple messages sent within a conversation.
Note that while web and push notifications are sent for every message that your project receives, email notifications are only sent if none of your teammates 'see' the message within 2 minutes. If at least one teammates 'sees' (clicks on the message thread and then clicks on the reply area inside the team inbox) the message then none of the other teammates will receive the email notification for that chat message. However, everyone on your team still receives web and mobile push notifications no matter what.
You and your users can continue the chat conversations by replying to the email notifications. All email replies sent to the email notifications will be sent to you and your users as chat messages.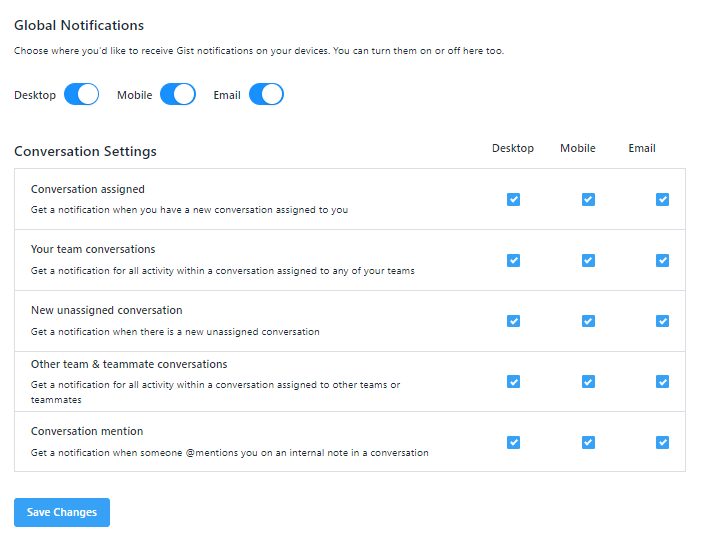 You can choose which of the four notifications you want to receive by checking the appropriate boxes as shown above. The best case scenario would be where you check all the boxes, in which case you will be notified of every conversation in your project. This allows you to get involved in every single conversation. This is ideal for people who are part of your support team.
If this is too hectic because you receive a lot of messages every day from your users, you can prune the list by allowing notifications only for those conversations that are either directly assigned to you or to the team you're on. This is ideal for anyone who is not on your support team.
Note that all boxes are checked by default, so you will get notifications for every message that your users send you.
Learn more about how Gist delivers push and email notifications to your team.
---
Need Help?
If you have any questions, please start a Live Chat. Just "Click" on the Chat Icon in the lower right corner to talk with our support team.
Did this answer your question?