How does Gist deliver Inbox notifications?
How does Gist deliver Inbox notifications?

By Jitta
updated 3 days ago
Notifications are an important part of Gist. Whenever your users send messages to you via chat, you can set Gist up in a way to send you notifications across platforms so you don't miss out on any important conversations.
Each of your teammates on Gist can go to their Profile settings and choose when and where to be notified of new conversations with visitors and customers.
Gist sends you three different types of notifications.
Desktop notifications
These are sent immediately.
Make sure you have at least one browser tab with Gist opened.
If you aren't receiving desktop notifications, click the padlock icon in the browser's address bar, and in the popover that appears, click "Site settings". Make sure both Sound and Notifications are set to "Allow".
If you're using Chrome, you can check these settings here: chrome://settings/content/notifications
Mobile notifications
An instant push notification to your phone as soon as you receive a new message from someone on your site.
If you do not have our app installed already, you can download them here:
iOS - https://itunes.apple.com/us/app/gist-live-chat/id1295111221
Android - https://play.google.com/store/apps/details?id=com.gist.android&hl=en
If you are not receiving mobile push notifications, be sure to check notification settings on your mobile device.
Email notifications
We wait for two minutes before sending an email notification to you. This is to make sure you are not bombarded with multiple emails for each new incoming message. Instead, you'll receive a single email with all user messages once there has been no reply for 2 minutes.
Note: If one of your teammates sees (clicks the conversation within Inbox) a message within the 2 minutes, no one else will receive the notification.
You and your users can continue the chat conversations by replying to the email notifications. All email replies sent to the email notifications will be sent to you and your users as chat messages.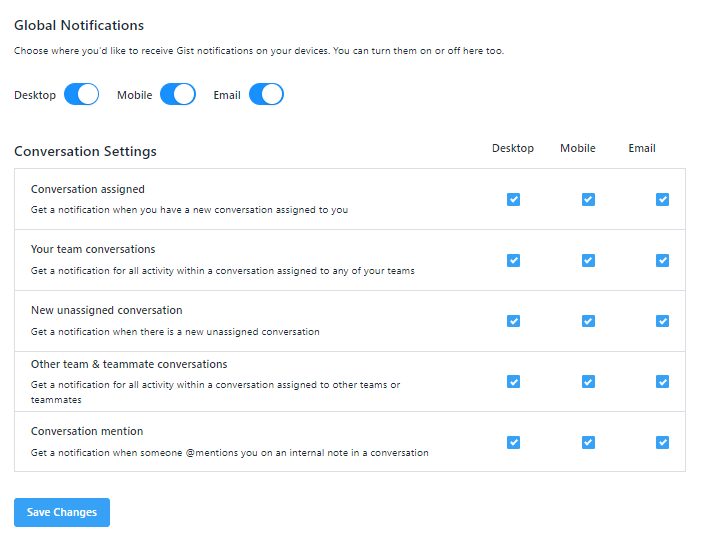 ---
Need Help?
If you have any questions, please start a Live Chat. Just "Click" on the Chat Icon in the lower right corner to talk with our support team.
Did this answer your question?