Using Gist, you can help users navigate your product and use effective messaging to guide them from their first interaction with you to becoming paying customers.
If you want your free users to upgrade and become loyal, paying customers, you will have to show them the kind of value your product provides to them and their business. You must also go out of your way to help them get started with your product.
And the best way to do that is by creating an onboarding email campaign that educates your users about the benefits of using your product, while encourages those who are slipping away, to keep coming back to your product.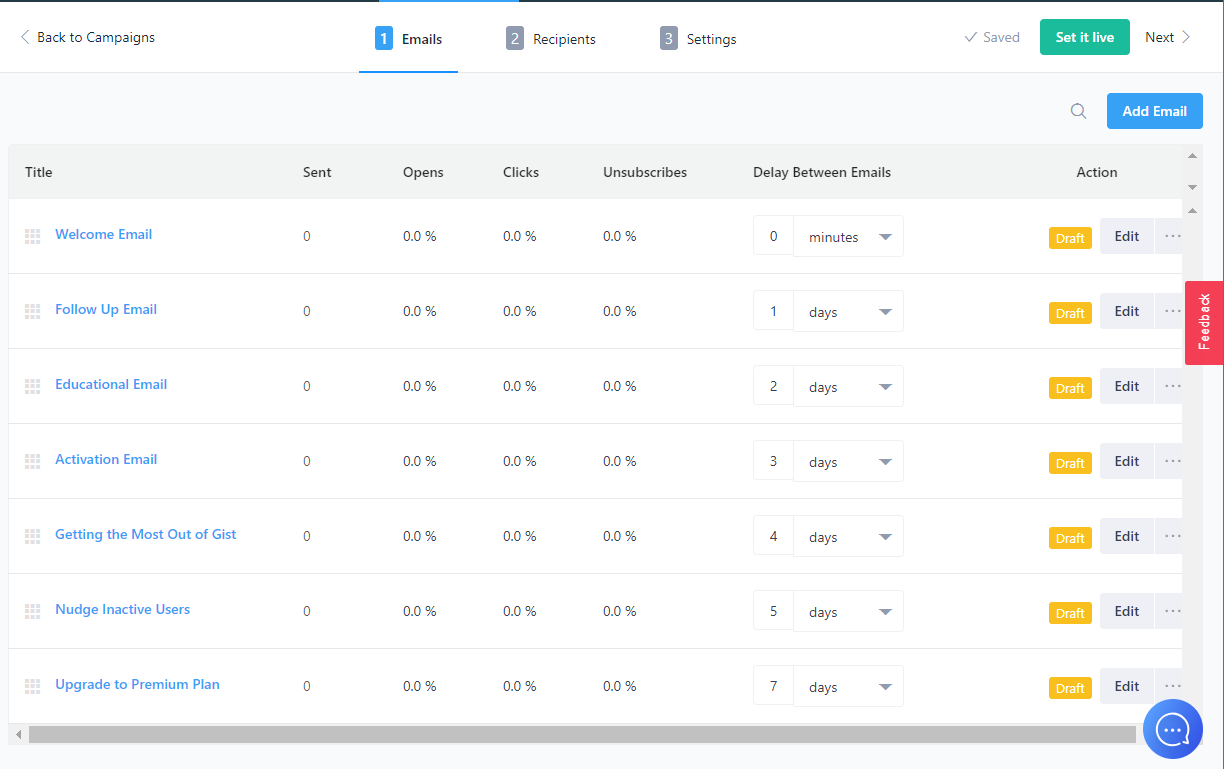 Your onboarding campaign can have as many emails as you like, but you should be sure to not overwhelm your users with too many emails, and at the same time, not send too few emails because then your users may forget or lose interest in your product.
Creating an onboarding campaign
All you have to do is define your campaign goal, choose who to send the campaign to, and then compose the email content.
Once you create the campaign and set it live, Gist will automatically send the emails one by one.
What messages should you send?
When you're onboarding new users, you'll want to highlight more features and show more value as to your customers by helping them dig deeper into your product.
The types of messages you create and the times you choose to send them will depend on your customer's needs. But here are some examples you can seek inspiration from:
Welcome your new users on day 1
On day 1 customers should receive a warm welcome message. This should provide a clear next step to help them get started with your product. Your rule here would be 'Web sessions is 1.'
So anyone who has completed just one session by logging in would receive this message.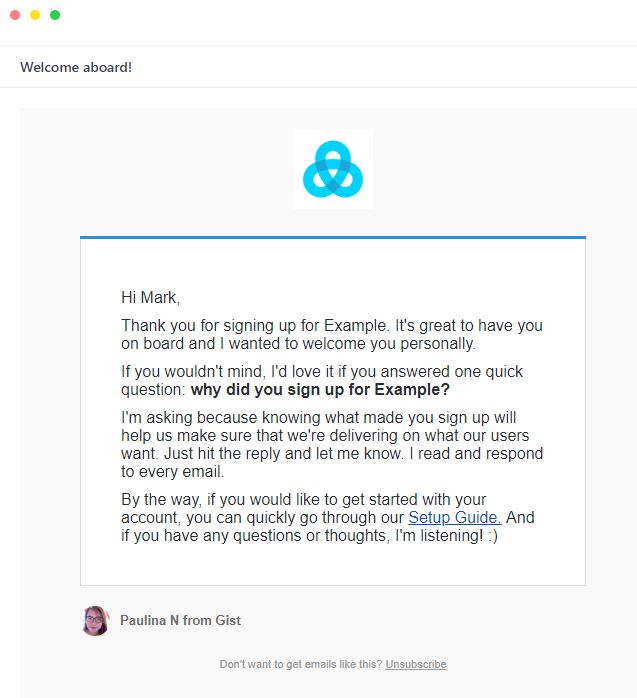 Follow up with users asking if you can help
After a few days of usage, it would be nice to ask your users if they need any assistance from you. For example, you can target those users who 'Signed up less than 3 days ago'.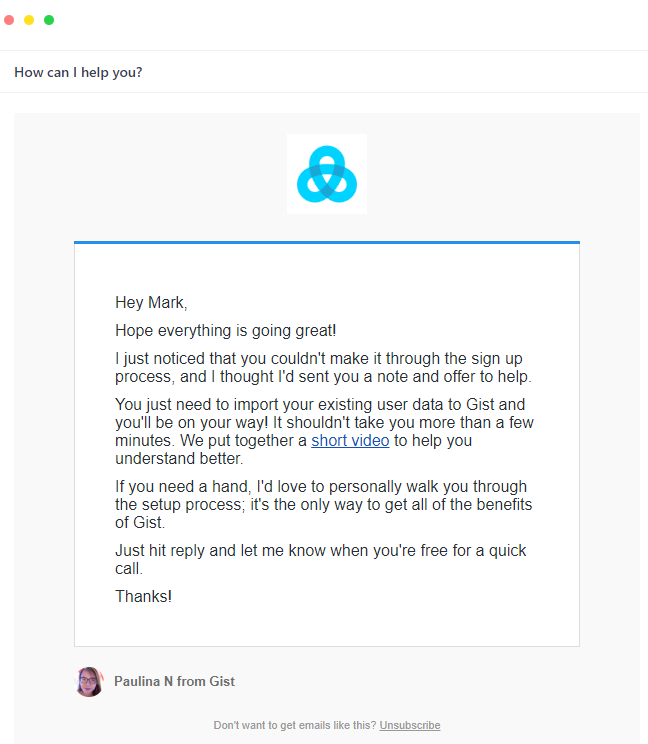 Follow up with active users based on their behavior on your site
With Gist, you can make use of some effective engagement rules to target specific users based on their behavior. For example, some users may have clicked on the link to upgrade to a paid plan, but haven't upgraded yet. Or some users may have completed their account setup on your siter and are now ready to useit.
In such cases, you can immediately send an education email letting them know about the benefits of usng your product. Be sure to let them know about the benefit they are going to get out of it, rather than focusing on feature selling your features.
To target such users, you will have to first define user events on your site and then select the event on the People page. For instance, in this case, you will have to track the 'Create Account' button or link on your website.
Once you do that, you can select the custom event 'Has created account' and then send the message to those users.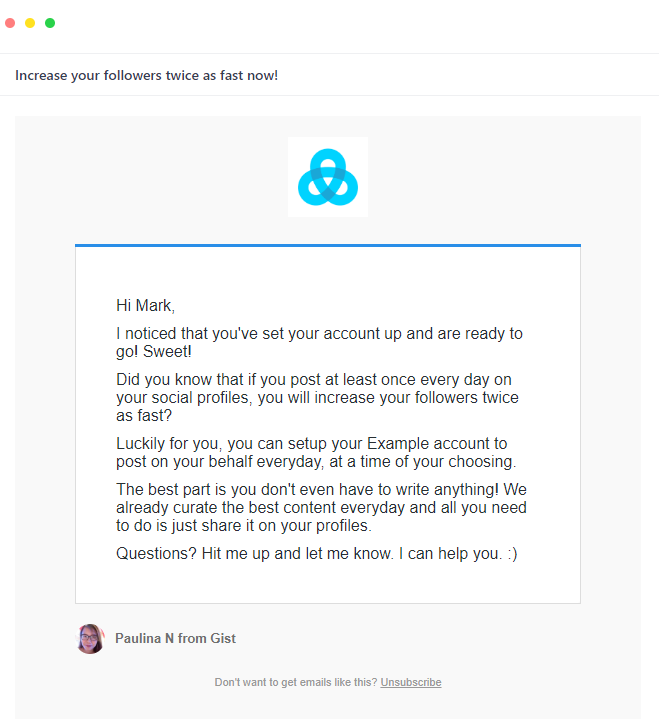 Show users how to get the most value from your product
During the onboarding campaign, you can also let your users know how they can get the best out of your product, by introducing them to an important or popular feature. Or if your product has multiple complicated features, you can send them a handbook or guide to using your product if they meet certain milestones.
For instance, you can set a rule 'Post Count is 10' and then send a message to the matching users.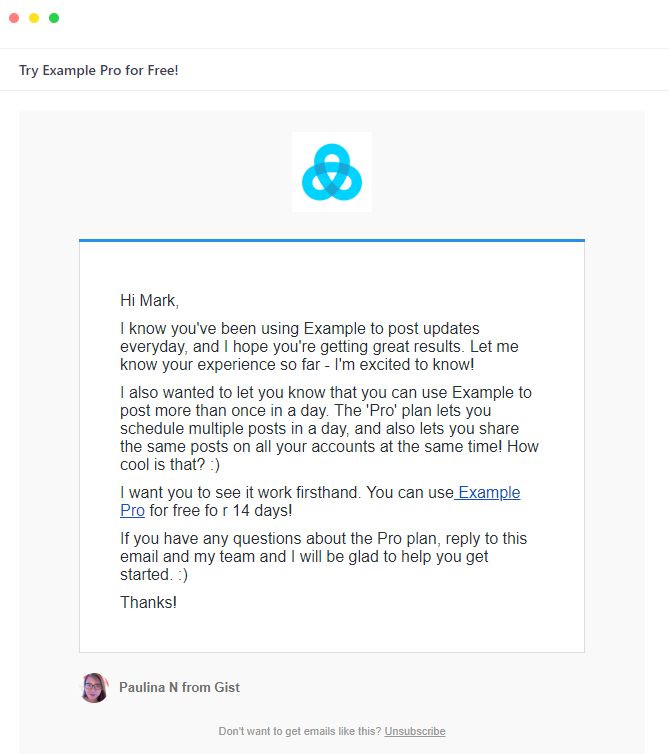 Nudge users who don't take the first step
If some users do not take any action on your site or product, you can urge them to do so, by sending a reminder email, letting them know what they're missing out on. For instance, if your users need to create posts in your app in order to understand your product best, then you can create a rule for such users.
'Entered Onboarding Campaign 5 days ago' AND 'Post count is 0' would be the right combination of user segments that you should be targeting.
You can then send an email like this: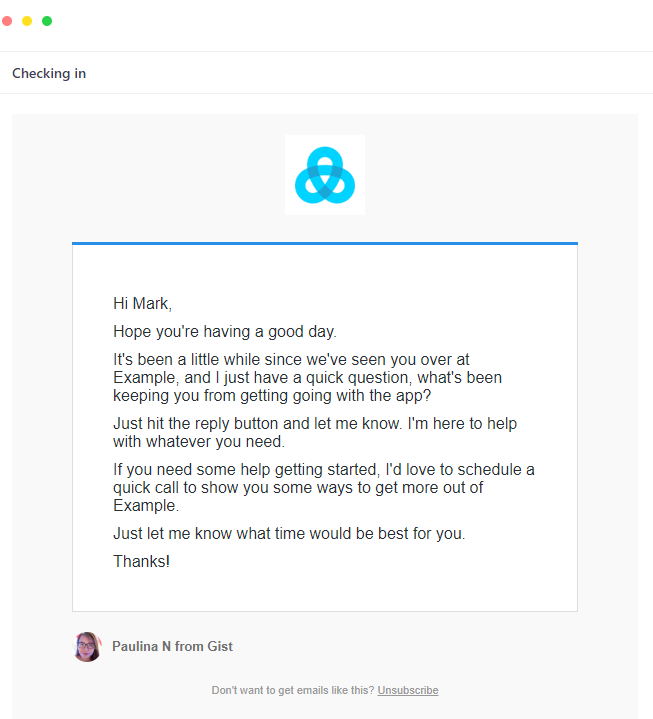 Urge customers to upgrade before the trial expires
2-3 days before their free trial ends, you can send a message to your users to upgrade to a paid account. You can also offer them an incentive, like a discount, if you prefer.
If your trial period is 14 days, you can choose the users who 'Entered Onboarding Campaign 12 days ago'.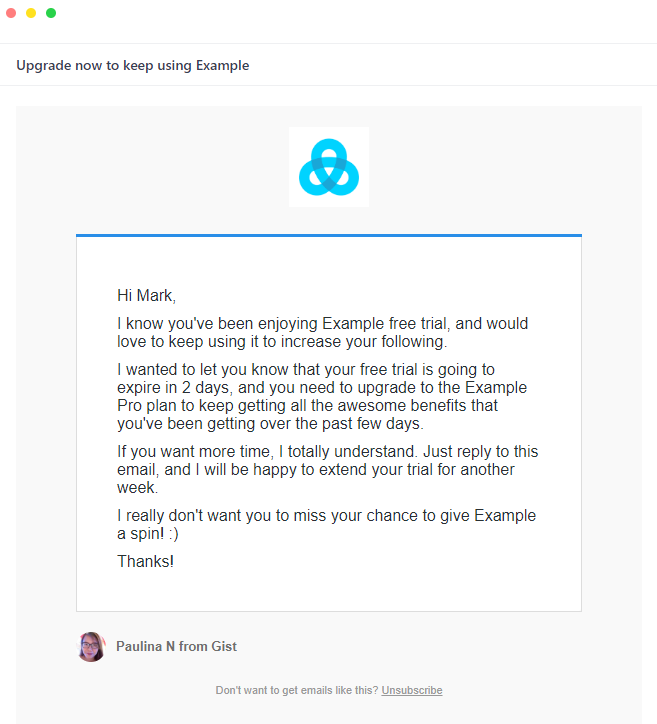 ---
Need Help?
If you have any questions, please start a Live Chat. Just "Click" on the Chat Icon in the lower right corner to talk with our support team.