If you wish to do an email blast to all your subscribers about something very specific - such as newsletter updates, blog feeds, etc., then you can use one-off email messages on Gist.
Let's look at a use case where you'd be using the one-off email messages feature to send a one-off email to your newsletter subscribers notifying them of a new post on your blog.
The content of a newsletter notification email:
What you say in your first email to your prospective customers is of great importance, because that message helps you build a personal relationship with your users. Even though one-off email messages are one-off emails that you send from time to time, it is important that you send a friendly, warm welcome message to make your users feel at home.
Greet your customers by using their first name, instead of a generic hello. Gist adds a first name variable by default. Keep the tone friendly and informal. Encourage users to take action on your site.
Here's an example of a good one-off email message that you can send to notify your subscribers of a new blog post.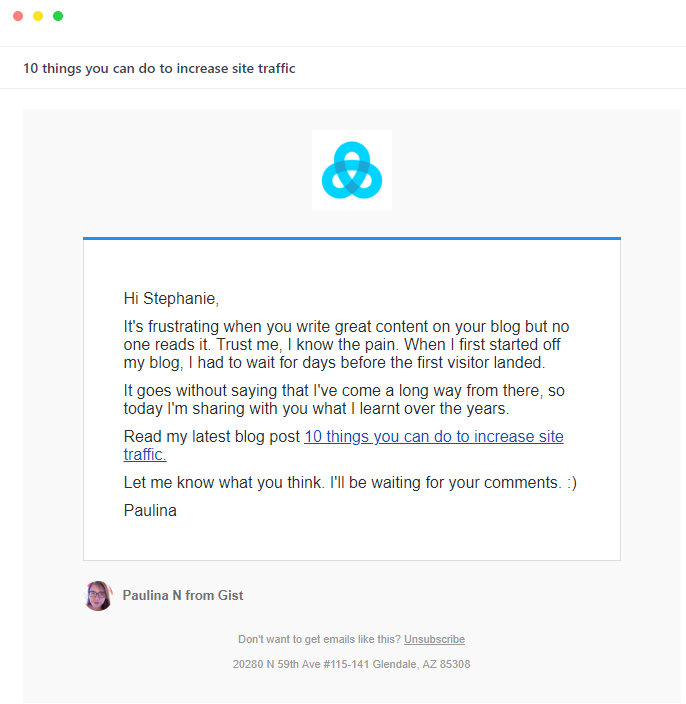 When to send one-off email messages?
Since one-off email messages are one-off emails that are centered around a certain event, it would serve you best if you time the one-off email message right. In this case, since you're notifying your users about the blog post that you just published, it would be good to send the one-off email message right after you publish the post on your blog.
---
Need Help?
If you have any questions, please start a Live Chat. Just "Click" on the Chat Icon in the lower right corner to talk with our support team.