Using Internal Notes and Tagging Teammates
Using Internal Notes and Tagging Teammates

By Jitta Rao
updated 11 months ago
---
With Gist, you can work together with your team and collaborate behind the scenes before responding to your customers' questions.
Internal notes and teammate tagging are two options that allow you to do this. When you are talking to a customer or lead, you would, on some occasions, need assistance from one of your teammates. Sometimes you realize you need feedback or input on your users from other teammates, and sometimes you might need your team to fix a bug or make some changes at your end.
Internal notes are perfect for such use cases - you can use them to communicate with your teammates behind the scenes, within the same conversation that you're having with your customer or lead.
This is useful for two reasons - first, you can converse with your team on the same conversation thread that you are having with your customer. This means, everyone gets the context of the conversation quickly and easily. This avoids the unnecessary back and forth between you and your team.
Second, they can get things done and reply in the same place, either to you behind the scenes, or they can join the conversation and reply to the customer directly. This makes it quick and convenient for everyone.
Internal notes are not visible to the customer and can only be seen by members of your team. By default, everyone on your team can view the note if they open the conversation. But no one in particular receives a notification that an internal note has been added, unless you tag them in the note.
When you tag someone in a conversation, they receive an email notification instantly, and they can click to open and join the conversation. Tagging people is easy and straightforward. Just type in @ and then start typing their name. Gist then shows you the list of people with that name, and you can choose the right teammate from there.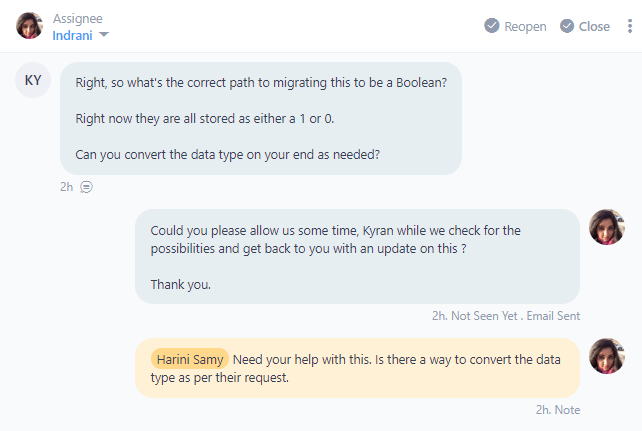 Use cases for internal notes and teammate tagging:
Here are some cases where internal notes are useful for you and your users.
Fixing technical issues
When you come across a pressing technical issue, it's much better to loop in someone from your product team and let them know about it. This will allow them to read the conversation, view the screenshots and links posted by the user previously, and quickly understand the issue.
Reducing churn
When a high value customer is unhappy with something about your product or service is about to leave your system, you can loop in their account manager and ask them to follow up with a personal call to help understand their issue and fix it immediately.
Answering product related questions
There will always be situations when a customer asks you a series of complex technical questions about your product, or requires help with something very advanced, or may ask you about a third party integration that you are not aware of. You can then tag one of your product managers to explain your new product updates and features, or loop in an engineer and ask them for help.
Sharing feedback with the team
Sometimes, users come up with some great ideas and use cases for your product or service. You would then want to pass it on to your product team and let them join the conversation to understand the use case better. Or, you could also loop in your content team to see if they can come up with a blog post or help guide that helps answer their questions.
Getting users onboard
When a potential customer needs help with your plans or pricing, or any of your product features, you can loop in one of your sales people so they can take the conversation forward from there. You can also help users with their onboarding by tagging your customer success reps.
---
Need Help?
If you have any further questions, please start a Live Chat. Just "Click" on the Chat Icon in the lower right corner to talk with our support team.
Did this answer your question?