There are instances where you will encounter chats from visitors who are saying inappropriate, spammy, or abusive things. If closing the chat is not enough and they keep causing trouble, you can block them from sending you a message.
How to block spam
To block spam, go to the Inbox conversation and click on the three vertical dots icon in the top right corner.
There are two ways to block spam in Gist:
Block User - the user is restricted to create a conversation from the same email address that was blocked. If they submit another email address, they can continue to send you messages.
Block IP - the user's entire IP address is restricted and they will not be able to send any messages even with a different email address.

Note: Blocking prevents your visitors from using your chat, but it won't kick them off your website. If a contact whose IP has been blocked tried to send a message, the chat Messenger will automatically close and disappear.
How to unblock a user or IP
If by accident, you block a user or IP, you can easily unblock them by following these steps.
Navigate to Settings on the menu bar.
Go to the Inbox under the Tools section on the leftside panel and click Spam.
Find the contact or IP under Blocked Contacts or Block IP addresses.
Click Unblock.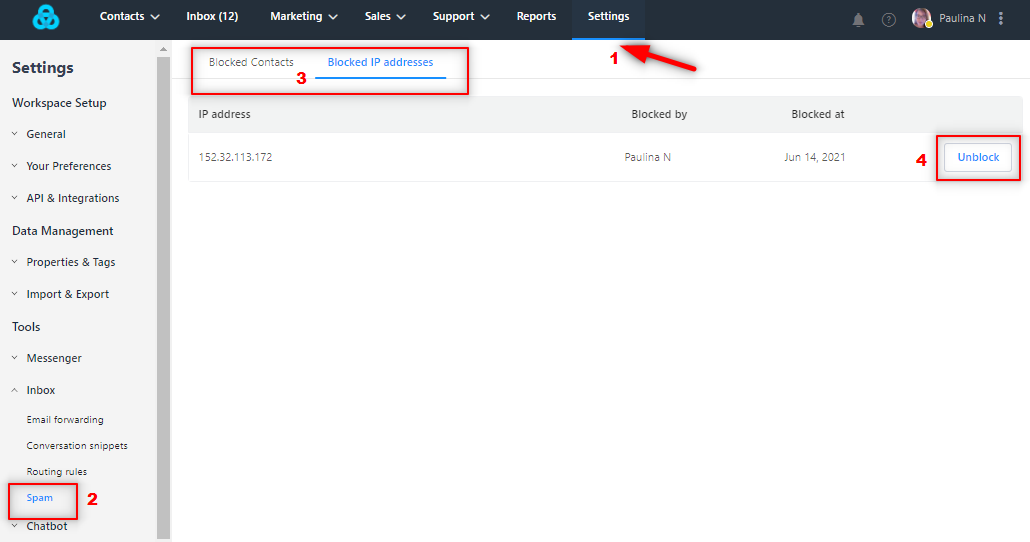 You'll receive a confirmation that the person or IP has been unblocked and they will be able to chat with your team again.
---
Need Help?
If you have any further questions, please start a Live Chat. Just "Click" on the Chat Icon in the lower right corner to talk with our support team.