When there is a transition of responsibilities in your organization or for any other reason, you can transfer the ownership of your workspace at any time.
We've outlined how to transfer primary ownership, so keep reading to learn more.
Requirements to transfer ownership
Only the primary owner can transfer ownership of a workspace
The person you want to transfer the workspace must be added as a team member to the workspace before ownership can be transferred.
The 'Workspace Access' setting of the team member you are transferring to must be on 'Has access' status.
Transfer ownership
Now, that the requirements are clear, let's look at how easily you can transfer the ownership of your workspace:

From the list of your teammates, select the one you wish to transfer the ownership to.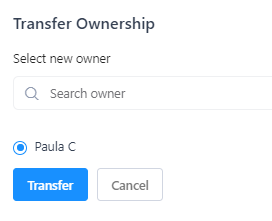 The ownership will be transferred immediately. You'll also see message prompt that says, "Successfully transferred ownership for this project."


Common questions
1. I don't see the 'transfer ownership" button?
Only the owner can transfer ownership. Please ensure you are logged in as the owner of the workspace. If the primary owner has left your company or organization, you'll need to reach out to this person for help.
2. How do I add team members in Gist?
You can follow this guide on how to add, restrict access and delete team members.
---
Need Help?
If you have any further questions, please start a Live Chat. "Click" on the Chat Icon in the lower right corner to talk with our support team.