Welcome to Gist Email Marketing, where we prioritize delivering reliable and effective email services to all our users. To ensure that we consistently maintain our service quality and high deliverability rates, we utilize an approval process.
Approvals are a normal part of sending emails through an email service provider and are designed to help:
Keep spammers at bay.
Ensure people are following best practices for email content and contact growth.
Safeguard the sending reputation of all customers who use our service.
This ensures that all Gist Email Marketing users are able to score high deliverability rates and are in good standing with ISPs around the internet. Our precautions are meant to protect your business and the businesses of all Gist Users.
When Approvals Happen
Every new account with Gist Email Marketing must undergo an initial approval process before gaining email-sending capabilities. This is an integral step to confirm your authenticity and to ensure you are aligned with our email best practices.
Post this initial approval; further approval requests may be prompted as your contact list grows. The triggering point for these additional approvals can vary based on each individual account and how long you've been sending with us.
Bear in mind that there might also be specific situations that necessitate further approvals. For example, if we detect unusually high bounce or complaint rates, this may trigger an approval process to safeguard the sending reputation of all our users.
When to Request Approval
If your workspace does need further approval, an email notification will be sent to the workspace owner's email address. This way, you are aware of the requirement and can take immediate action.
To request approval, begin by navigating to the Outbound page of your Gist workspace. If approval is required, you'll notice a prominent banner at the top of your screen. This banner is not just a notification - it also includes a Submit Now button that you can use to start the approval process.

How to Get Approved
Upon clicking Submit Now, you'll need to fill out a form providing the necessary details about your business and email usage.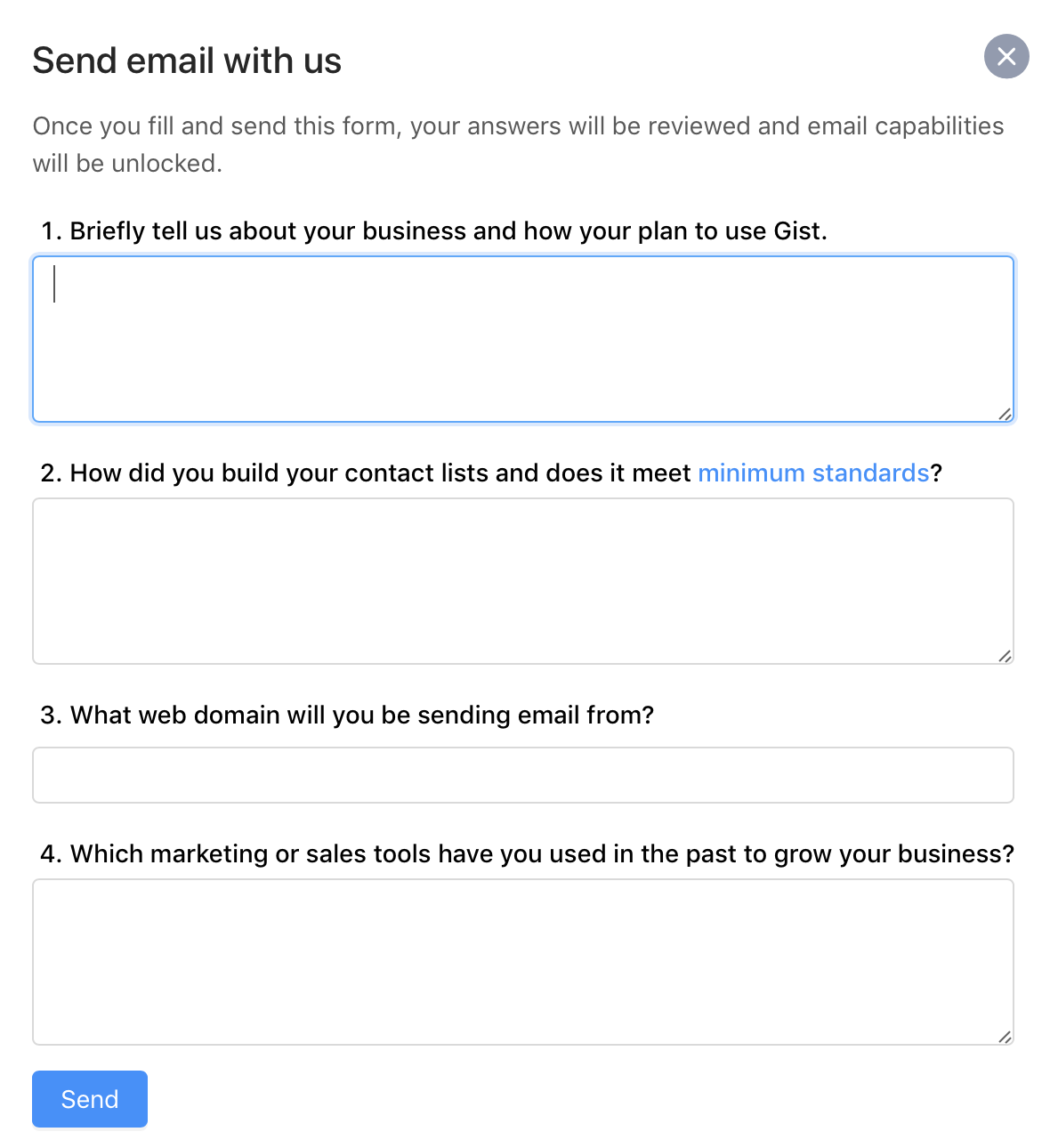 Here's what you need to provide:
A brief description of your business and how you plan to use Gist.
How you built your current contact list and confirm it meets our standards.
Your web domain (the email address(es) you'll use in your Gist account).
The marketing or sales tools you've used in the past.
A support team member will review your information and either enable email sending or contact you for more info. You'll receive an email notification about your approval status.
Common Questions
Why is this approval required?
This is primarily to ensure great email deliverability. We also verify your authenticity, domain ownership, and quality of your content.
How long does it take?
Although there isn't a fixed time frame, we strive to respond as quickly as possible. Feel free to contact us if you have an important campaign and wish to expedite the process.
How will I know I've been approved?
Approval notifications are sent to the email address of the workspace owner.
What happens if I'm not automatically approved?
In such cases, we'll need more information to verify your identity. You'll be contacted for additional details. You'll still have access to features like Live Chat, Events, and Forms.
We hope you find it helpful as you embark on your email marketing journey with Gist. Happy sending!
---
Need Help?
If you have any further questions, please start a Live Chat. "Click" on the Chat Icon in the lower right corner to talk with our support team.