---
Using Gist to Manage your Support Emails
Instead of using a business email account or separate ticketing service to manage support emails from your customers and prospects, you can use Gist!
When someone emails your support email address, you can manage the entire conversation inside of Gist which keeps all your customer communication in one centralized location. All you have to do is forward those emails to your Gist account. This makes responding to customers fast and easy for yourself and teammates!

Any email forwarded to Gist from your support email address will be automatically converted into a new conversation or added to an existing one. These will appear in your shared team inbox in real time.
By following the simple steps below, you can start sending and receiving support emails right away.
Step 1: Whitelisting Your Support Email Addresses
Click on the Settings 'Gear' Icon and then click on "Inbound Email Addresses".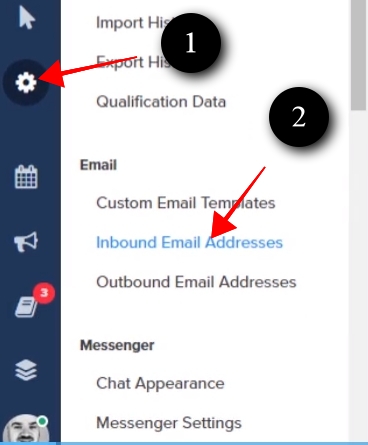 Enter your support email address(s).
You can add as many white-listed email address to your Gist project as you like and all emails that are forwarded from these addresses to your default Gist inbound email address will be converted to conversations.
At any point, you can add more white-listed email addresses to your Gist project, which you can use for particular teams or types of support conversations.

Step 2: (2:10 In the video above) Set Your Current Email Address To Forward Emails To Gist
Now, that you have white-listed your support email addresses, you'll now need to set up your mailbox to automatically forward any incoming email to your default Gist inbound address.
Because you are forwarding your emails from your current email address, this setting is changed outside of Gist at your current email client. If you have any issues with this, please reach out to our support by starting a Live Chat in the lower right hand corner and we can help guide you.
Note: In the video, you will see the email hosting used in the example is easy to forward to Gist, it is a straight forward process at all email clients.
When you forward your email to your Gist inbound address, everyone that is part of your project will be able to see any emails sent to you. As a result, if you have private emails you don't want visible in Gist it's not advisable to forward emails from your personal address.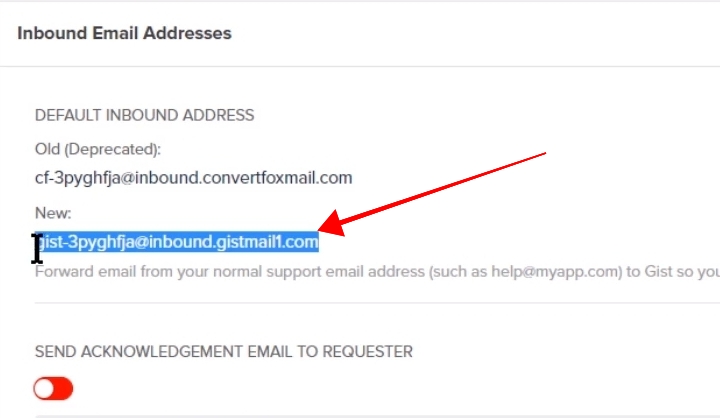 Added Feature: (4:05 In the video above) Forwarding an email message to the support email address:
If a teammate receives an email from a prospect or a customer that is better handled by another member on the team, they can simply forward that email message to the main support email address associated with Gist.
When that email is forwarded, it opens a conversation inside of Gist.
An overview of a forwarded email message.
1. The forwarded message.
The message is displayed exactly like a forwarded email would be shown in an email client.
2. Gist recognizes the original sender (not the forwarder) as the email that opened the conversation.
When interacting and replying to the message inside of Gist, you will be messaging the person who sent the original message.
3. A forwarded message is managed like any other conversation.
You have the full suite of text options and conversation settings available to you when interacting with a forwarded email message.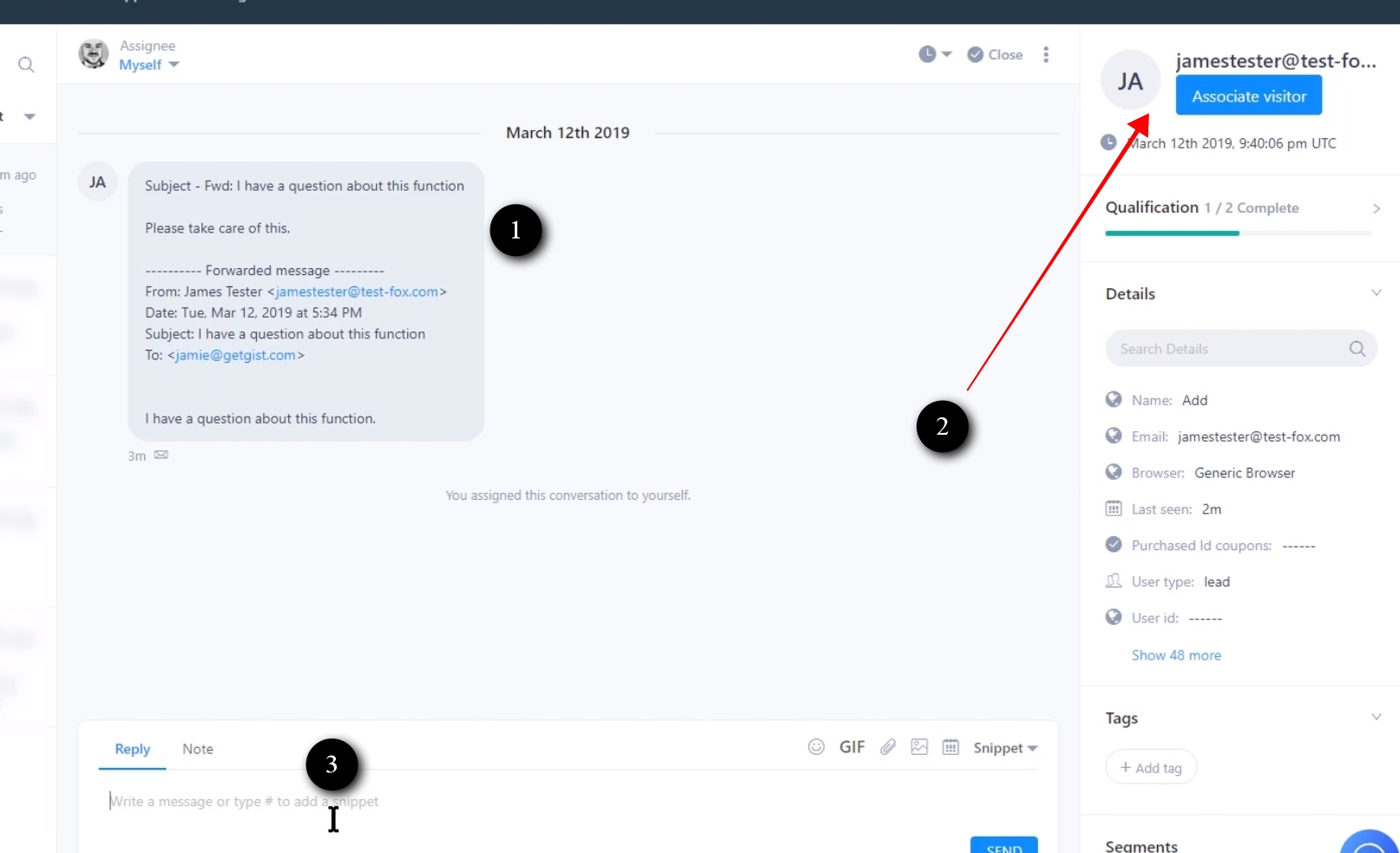 ---
Need Help?
If you have any further questions, please start a Live Chat. Just "Click" on the Chat Icon in the lower right corner to talk with our support team.