If your users sign up for your product but then fail to start off their journey as paid users, then you can use the activation email to send a targeted message reminding them of your most important features.
Most users just sign up out of curiosity and do not take actions in your product. As a result, they soon forget about your product and they slowly slip away from your app. You can avoid that by sending timely reminder emails to activate those inactive users.
When is a good time to send?
A good time to send an activation email is when a user signed up a few days ago but has not yet taken an important action on your product. For instance, if your user has to upload their photo to start their journey inside your app, and they haven't done it yet, you can then select a segment of users who 'Signed up 7days ago' and 'Uploaded photos is 0' and then send them an auto message.
Focus on the action to be taken.
Remember that you have already sent the welcome email and the follow-up email to the user, and despite that, the user failed to take the most important action on your website.
So this email could well be the last chance you have to persuade the user to take the action that you want them to.
Get straight to the point and make it easy for the user to understand what needs to be done in order to get started.
Let the user know why taking that action is important and how it benefits them or their business.
Get users excited to come back to your app and take action. Give your message a friendly and happy tone.
If the action is simple, let me know that explicitly. Tell that 'it doesn't take more than a minute', for example, and make them understand that it doesn't take much effort to get started.
Give them social proof if you have enough of it.
Here's an example of a good activation email: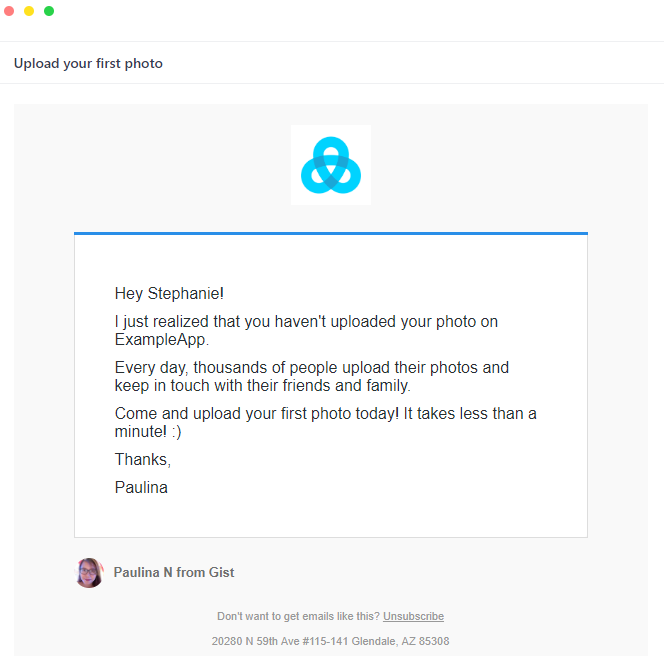 ---
Need Help?
Reach out to us using the Live Chat in the lower right hand corner!