Live Chat FAQ
Live Chat FAQ

By Jitta Rao
updated 4 months ago
Here are some commonly asked questions about using Gist Live Chat.
Can I turn live chat on or off when I want?
Absolutely! You can turn off chat when you don't intend to use it, or if you're on a hiatus. Go to the settings page, click on 'Messenger' > 'Visibility', and turn off the 'Show the Messenger launcher' button, and the chat messenger will stop showing on your website.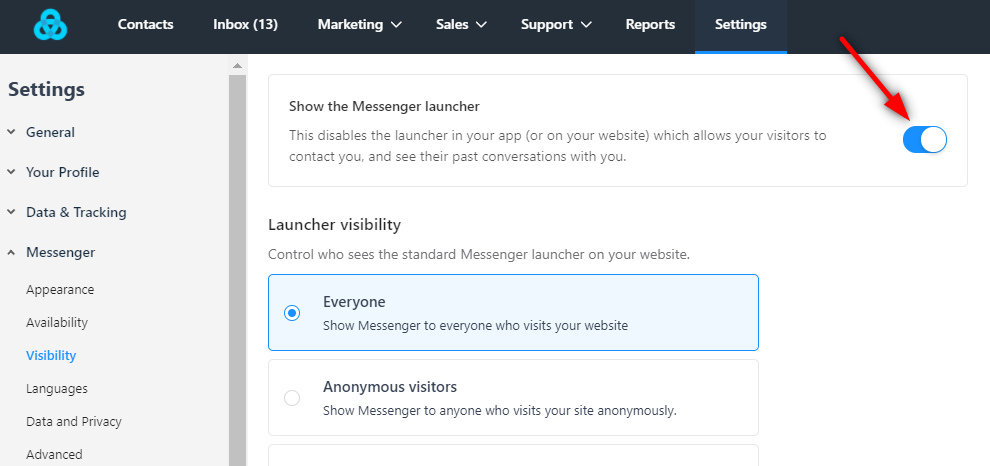 Note that this action disables the chat widget on all pages of your site. But you will still be able to use other tools - track customer properties, send emails, create custom segments, etc, while not being able to message your customers and visitors.
Can I change the chat icon on my website?
Yes, we have a few cool icon designs for you to pick and choose from. Note that you cannot add your own image or logo or design in place of the default icons that are available in the Messenger Appearance settings page.
How do I add/invite my teammates?
Depending on what plan you're subscribed to, you can add multiple live chat agents to your Gist account, and work as a team.
Go to the settings page, select the 'General' tab and click 'Teammates', and invite your teammates by entering their email address.
Gist will then send an invite link to the email address of your teammate, and they can sign up on Gist and start using it immediately
How can I get notified of new incoming messages?
Gist automatically sends browser push notifications to everyone on your team whenever a visitor starts a new conversation or replies to an existing conversation and no one on your team sees that message immediately.
If someone from your team is online and is viewing the message live, then no one else gets a browser push notification or email notification. This option is turned on by default and you can change it in your notification settings page.
Gist also sends email notifications when someone sends a message and no one on your team 'sees' that message within 2 minutes. If you or someone on your team clicks on the received message in the team inbox, and then types in a reply, then it is considered that the message has been read.
If you click on the message and read it but do not type in a reply, then it is regarded as 'not seen' by anyone, and as such everyone on your team would receive an email notification for that message(s).
You or your teammates can also choose to turn off notifications sent by Gist. To do that, go to the settings page and click on 'Your Profile' then 'Notifications'.
How will my customers be notified when I reply to their messages?
If they have your website open, they'll see a new message bubble appear, along with a notification sound. If they have your website open in a background tab, but are on another site or tab, we'll play a new message notification sound, along with a browser push notification to prompt them to click back onto your site. Also, the description of the tab that contains your website will be changed to 'AgentName says.. '
If they're not on your site at all but they have left their email address with you, then we'll send them the message as an email. If they did not leave any email address, then they can only view your message if they revisit your website on the same computer and browser within the next 30 days.
Why am I not able to view some of my customers and their details on Gist?
This often happens due to the fact that some of your customers are using adblock software which blocks any and all tracking mechanisms on their browsers. Even though Gist is not an adware and as such does not display any ads or unwanted popups, the adblock software still blocks Gist's tracking mechanism, and as a result it cannot display any behavioral properties of that particular user.
In such cases, you can send a manual email or a broadcast message asking users to either disable their adblock for your domain, or whitelist your domain on their adblock extensions. Once this step is complete and the user refreshes their browser, Gist starts tracking that user's behavior.
---
Need Help?
If you have any further questions, please start a Live Chat. Just "Click" on the Chat Icon in the lower right corner to talk with our support team.
Did this answer your question?