Introduction to Gist Live Chat
Introduction to Gist Live Chat

By Jitta Rao
updated 11 months ago
Live chat by Gist is an in-app, and on-site live messaging tool that allows you to communicate directly with your users, subscribers, and website visitors. Live chat helps your visitors ask questions instantly, and get answers from you immediately, hence cutting the delay in decision making and the sales process.
Gist's beautifully designed live chat tool is automatically integrated with Gist's CRM, or the 'People' page, where you can find all your customer information, activity, and communication history, together in one place.
The live chat product has two sides: the chat widget which is seen by your visitors and customers, and the inbox which is seen by your agents or teammates.
The inbox is where your team can view, and respond to all user messages, and manage customer conversations.
Live Chat Tool - Easy for your customers
Chat instantly
Unlike most other live chat tools, Gist does not require your visitors to log in to your website or a third party website or even require them to enter a bunch of details like name, email, etc., in order to start a conversation. Visitors don't need to start a new ticket every time they want to talk to you.
It's as simple as texting a friend. The chat widget can be seen on the bottom right of their screens and visitor can start a conversation immediately, just by clicking on the button. This eliminates delays and unnecessary burden on the visitor, who can now message you instantly.
Continue the conversation anytime
Even if the visitor closes the chat widget or leaves your site altogether, their entire chat history will be saved automatically, and then can come back later to continue the conversation or start a new one.
Keep the conversation going
Even if the visitor doesn't return to your website, they can enter their email address right within the live chat widget, and continue the conversations via email. If you reply to a visitor's message on the live chat and they do not respond within 15 minutes, Gist automatically converts your message into an email, and sends it across to them, so you can continue the conversation via email.
Instant Notifications
Gist sends instant notifications on all browsers so your team can keep the conversation going with visitors who are browsing other websites simultaneously. The notification also comes in the form of a sound alert.
The Inbox - Easy for your team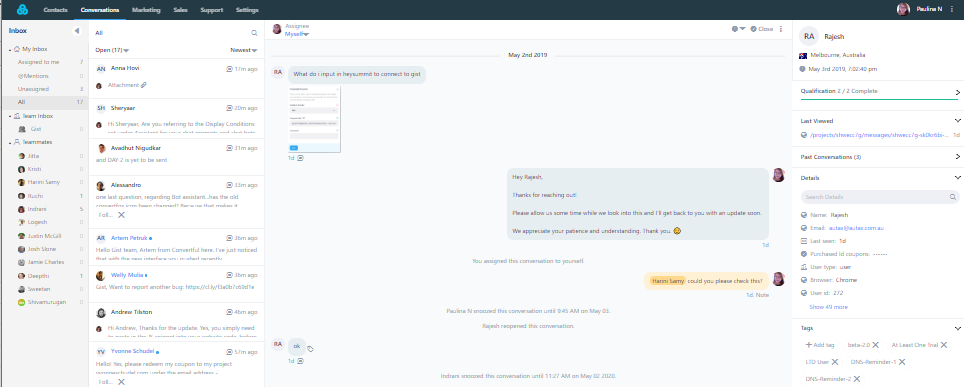 Manage conversations at one place
Having multiple conversations simultaneously doesn't have to be overwhelming to your team. With a single team inbox, you and your team can manage and respond to all customer and visitor messages. Receive messages from visitors and customers alike, in real time, in a single window accessible to everyone on your team.
Bring the whole team on board
You can add an unlimited number of teammates to your project, and anyone on your team can view, manage and respond to conversations. The entire chat history along with the complete user profile is available to everyone on your team, so anyone who is added to your Gist project can pick up and continue an old conversation by understanding the context immediately.
Respond via email
Your team can also respond to a user's message via email. If a user leaves their email address during the chat, when they go offline you can still send messages via email. Your users can then reply via email and responses will still come back into your Gist inbox so you can view it as one continuous conversation.
Create saved replies
There are certain questions that almost every prospective customer asks you. There are certain things that a lot of your paid customers need help with. Instead of typing the same responses over and over again, you can set up saved replies and answers to FAQs beforehand.
This saves several hours of wasted time, thereby boosting the performance of your support team, so they can use the saved time to help more customers or to convert more visitors into customers.
Saved replies can be used in your responses whenever you want, so you can delight your customers with instant replies and faster support.
Use keyboard shortcuts
You can use keyboard shortcuts to make it easy for you to work with the Gist live chat and talk to your customers. Right now, the two shortcuts that would help you are Shift+Enter - which gets you to a new line, and Ctrl + Enter (Cmd + Enter for Mac users) - which submits the message that you typed.
Get instant notifications
Gist sends instant notifications on all browsers so your team can keep the conversation going with visitors even if they are not on the inbox page, or are away from the desktop. The notification also comes in the form of a sound alert.
Edit unread messages
Sometimes, you may send a wrong message to a user, or maybe even a right message but a wrong user. With Gist, you can edit this message and correct your mistakes before anyone else sees them.
If the user is online and sees your message instantly, then there is nothing you can do, but if the user is offline, then you can change the message text within 2 minutes so they can receive the message that's actually intended for them.
Group conversations based on status
With Gist, you can set a conversation's status to either 'Open', 'Closed', or 'Pending'. If you're sure that a conversation is over and that the customer is satisfied by your help, you can close the conversation. If you wish to come back to the conversation later on, or if you're awaiting confirmation from someone else on your team regarding the status of their issue, you can set it as 'Pending' so you and your team can view all pending conversations in one place.
Write Internal notes and tag teammates
You and your team can write notes internally to give some context or to let other members know what the issue or question is about. You can also tag another member of your team if their help is required, and work together behind the scenes to provide quicker and better support to your users.
Send screenshots and file attachments
Your users and your team can send each other images, screenshots and file attachments. Screenshots will be helpful in understanding technical issues, bugs, etc.
All conversations in one place
From the moment someone visits your website, Gist starts tracking all the actions that they do on your website, including all the conversations they have with you. Gist tracks their conversations from the time they were anonymous visitors, to the time they become your paid customers, and seamlessly stitches together all activity and conversations so you can use them any time you want to gain insights into the user's profile, behavior, and requirements.
---
Need Help?
If you have any further questions, please start a Live Chat. Just "Click" on the Chat Icon in the lower right corner to talk with our support team.
Did this answer your question?