If you wish to remove contacts from a segment, you can do one of the following:
Hide the respective contact segment from the People page
Delete contacts from the contact segment
Note that you can unhide a segment any time you want, but you cannot retrieve contacts and contact segments once they're deleted.
Hiding a contact Segment
Hiding an entire contact segment is a simple process.
Go to Settings > Contact Segments, and you will find a list of all default contact segments and the contact segments that you have created over time. Click on the 'eye' icon next to the segment that you want to hide.
That's it. You've now hidden that contact segment.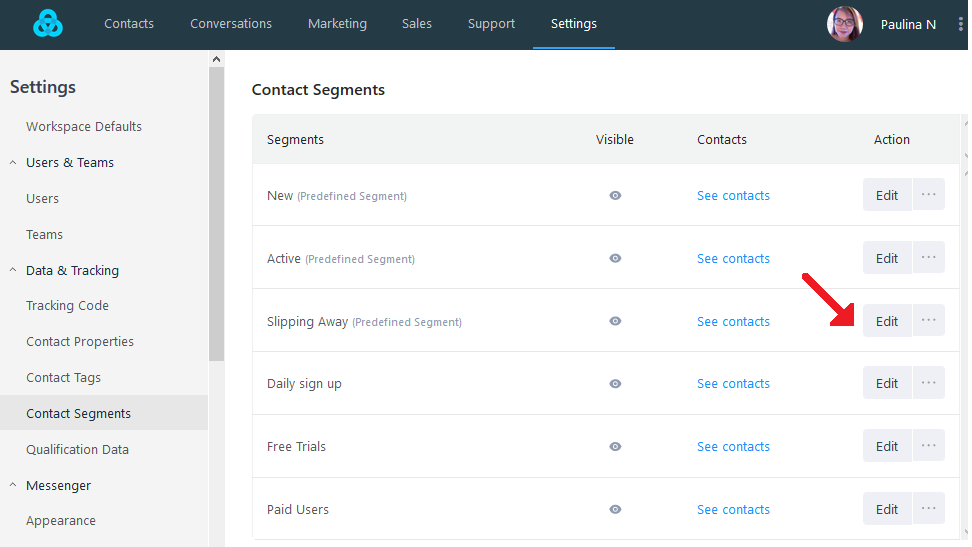 If you wish to unhide the contact segment again, you just have to click the 'eye' icon once again.
You can also edit the name of a contact segment. Just click the 'Pencil' icon next to the contact segment.
Deleting Contacts from a Segment
You can delete any number of contacts if you deem them unnecessary. Note that contacts once deleted will be removed from the database permanently, and cannot be retrieved.
To do that, go to the people's page first, and select the segment you wish to delete.

If you wish to remove only a selection of the entire segment, then click on the individual contacts that you wish to delete. However, if you wish to remove every contacts in the segment at once, then click the 'All Select' checkbox at the top of the list of contacts.

Once you have your selection ready, proceed to remove the segment by clicking on the 'Delete' button. The selected contacts in the segment will then be removed permanently from the database.

---
Need Help?
If you have any further questions, please start a Live Chat. Just "Click" on the Chat Icon in the lower right corner to talk with our support team.