The Gist Messenger supports multiple languages and allows you to communicate with your website visitors and customers worldwide and deliver a great real-time support experience.
You'll have 44 languages to choose from, including French, Spanish, Portuguese and German. Here's a complete list of supported languages:
Afrikaans
Albanian
Arabic
Bahasa (Indonesian)
Bengali
Bosnian
Bulgarian
Catalan
Chinese (Simplified)
Chinese (Traditional)
Croatian
Czech
Danish
Dutch
English
Estonian
Finnish
French
German
Greek
Hebrew
Hindi
Hungarian
Icelandic
Italian
Japanese
Korean
Latvian
Lithuanian
Malay
Mongolian
Norwegian
Polish
Portuguese
Russian
Serbian
Slovak
Slovenian
Spanish
Swedish
Thai
Turkish
Vietnamese
How can I set multiple languages?
Navigate to Settings > Tools > Messenger > Languages.
Choose your default language.
Add additional languages (optional).
Click Save.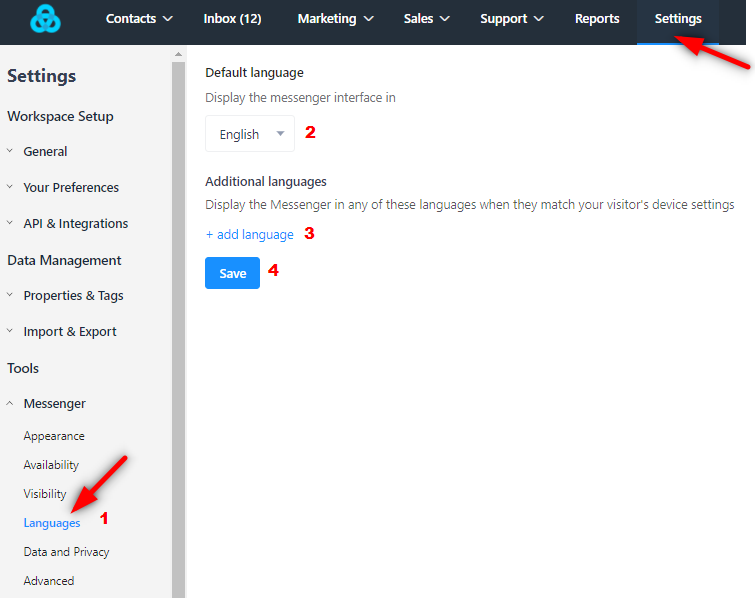 Important Note:
The additional languages will be displayed only when the visitor browser language is the same as the additional language. If they did not match, we'd display the content in the default language.
For example, if your default language is English, you can allow the Messenger to appear in French to your French users, in German to your Germans users and so on.
The language you choose will change the language of the default text on the Gist Messenger interface. For example, the 'Start a conversation', 'New Conversation', 'Recent Conversations' and some other text on the screenshot below will be displayed on the language you set when they match your visitors' browser language.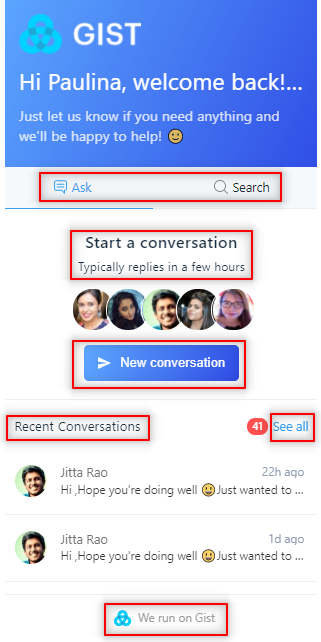 How does localization work?
You will be able to Localize your Greeting and Team Intro messages under Settings > Messenger > Appearance to each of the additional languages.
Important Note:
If no translations have been provided for either the greeting or team intro messages, they will appear in the default language.
If the language you are looking for is not listed, do reach out to our support, and we will do our best to add it to our supported languages.
---
Need Help?
If you have any further questions, please start a Live Chat. Just "Click" on the Chat Icon in the lower right corner to talk with our support team.