Automatically assign conversations in the inbox by round robin
Automatically assign conversations in the inbox by round robin

By Paulina N
updated 21 days ago
Customers reach out to your customer support with various queries which involve pricing, product, usage, bugs, so on and so forth.
As the size of the team begins to grow, your business might face two major challenges while managing customer conversations -
1. Connectivity - Making sure your customers are connected to the right person in your team.
2. Time Constraint - Reviewing and accessing the conversation queue along with selecting appropriate assignments is time-consuming.
With Gist routing rules, you can set up rules to auto-assign visitor conversations to the right member of your team, based on what your customer needs.
Gist tracks user behavior, and the keywords they use in their questions and allows you to route their questions directly to the relevant team.
For instance, you can set up technical questions to be sent to your product team, sales questions to your sales team, and so on.
How to set up routing rules on Gist?
It takes only a couple of minutes to set up routing rules.
Step 1: In your Gist workspace, navigate to Settings > Inbox > Routing Rules. Click on 'New Rule'.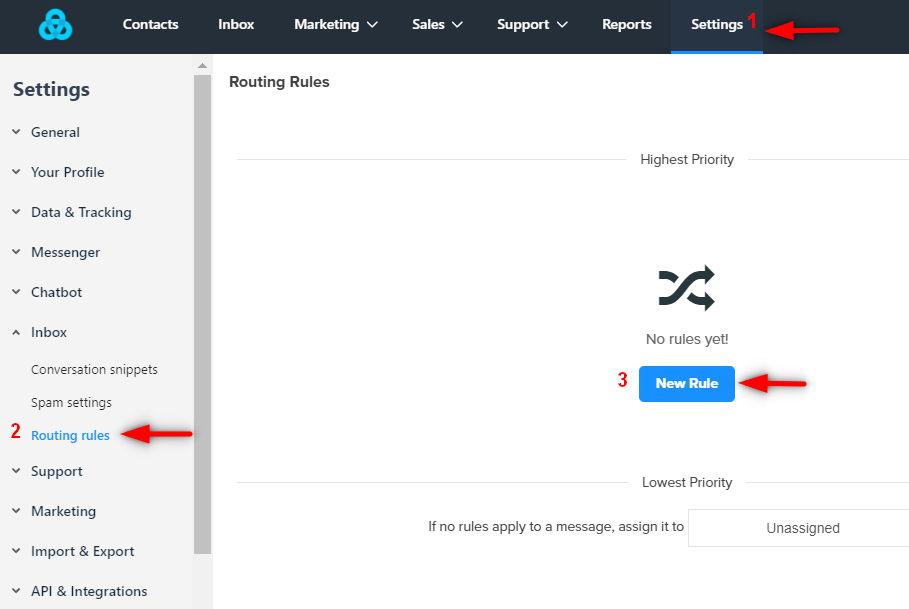 Step 2: Give an appropriate name to the rule in the 'Rule Name' section

Step 3: Under the "IF" section
Select the relevant attribute to use to filter the conversations - Message content, Country, Shared team email, etc.
Select the filtering criteria - contains, is greater than, less than x days ago etc.
And input the value in the text field - Pricing, 12000, 60 etc.
You can add a second condition to the rule by clicking the '+' option
Toggle AND/OR button. Choose AND if you want to assign when both the conditions are satisfied. Choose OR to assign if you want to assign when either of the rules is satisfied.

*Please note that when selecting "message content", it will only check for the first message. It will not assign the conversations in subsequent messages.
Step 4: Under the "THEN" section, select the team/ teammate, you want to assign these conversations to
Assign to a teammate

Assign to a team - when assigning to a team, you may choose to route the conversation to the team inbox or do round-robin, automatically assign to each member of that team.
Step 5: Save and set it live
If you're ready to start and automatically assign new conversations based on the rule you selected, click the "Save & Set it Live" button.
Choosing the "Save" button at the bottom will save the rule in a pause state. You can set it to live at any time.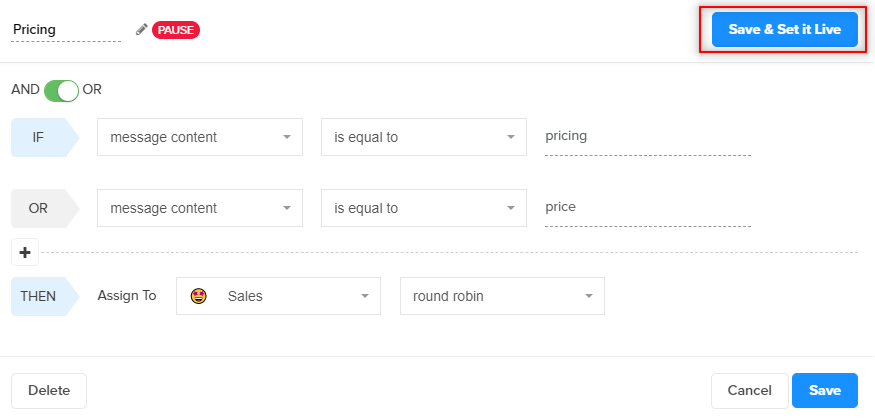 How does round-robin routing work?
It will check in the order of the live rules and won't consider paused rules.
Accordingly, it will check for the First rule (if satisfied then assign to the agent/team mentioned in this rule) as the Highest priority, if it's not satisfied then checks for the Second rule and so on.
If none of the rules are satisfied then it will take the Lowest priority rule and you can set a default assignee. Please note that in order for the lowest priority to work, there must be at least one rule on the workspace.
Rules can be reordered by drag and drop.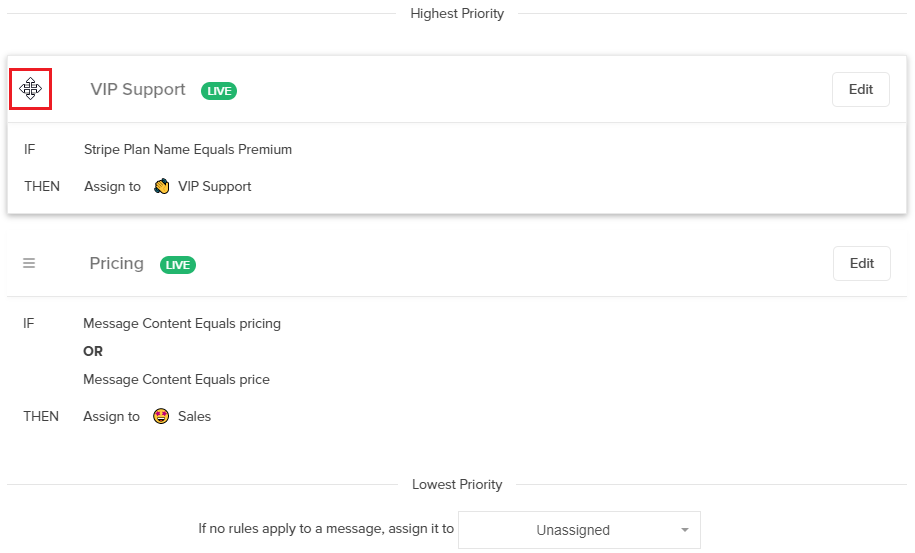 Round robin also works when assigning conversations to a team (as mentioned on Step 4), the conversations will be assigned on a rotating basis so it can be evenly distributed to the teammates that belong to that team.
Adding Multiple Shared Emails and Assigning Incoming Conversations
Here is a video that quickly shows how to add multiple email addresses and how to route your emails. In this example, if you have an email address for sales and another for support, you can now automatically assign the sales conversations to the sales team and the support inquiries to your support reps.
---
Need Help?
If you have any further questions, please start a Live Chat. Just "Click" on the Chat Icon in the lower right corner to talk with our support team.
Did this answer your question?