Ready to leave Klaviyo and bring your business to Gist?
Great! We'd love to build your business!
When you join Gist, you will have access to the features you use the most at Klaviyo. You will also have access to more features that are only available with Gist.
Easily import your Klaviyo customer data to Gist.
When you switch from Klaviyo to Gist, you have the ability to import your 'contacts' from Klaviyo to Gist. This is done by exporting from Klaviyo and then uploading a simple CSV file to Gist. You can import the details of your contacts, including their name, email address, job title, company, location and more.
---
Step #1 - Export from Klaviyo
To export your contacts from Klayviyo, click on the list in your account.
Go to the Lists and Segments page.
Click the Manage List dropdown and select Export List to CSV.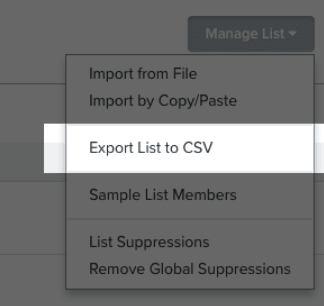 Step #2 - Import to Gist
Next, import your contacts to Gist.
Once you've downloaded your CSV file, you need to import that file into Gist.
This is a simple process that takes less than 2 minutes.
---
You'll be getting more. For Less.
One of the main benefits of moving to Gist is your lower monthly bill. For many, the savings are substantial. You will also have an entire suite of marketing tools with Gist that Klaviyo does not offer.
For a more complete comparison please check out our comparison page here.

Gist is an all-in-one platform for your business.
Gist is an all-in-one customer communication and marketing automation platform. Gist helps you grow your business and engage with your customers across their lifecycle. It is a complete marketing and growth stack for your business. Gist offers Live Chat, Email Marketing, Automation, Event tracking, Lead Generation Forms and more.
Here's a simple comparison between Gist and Klaviyo, including the differences in features and experience.
1. Gist lets you create a Knowledge Base.
Gist allows you to create a knowledge base full of articles relating to processes, product features and other common issues for your customers.
The Gist Knowledge Base tool allows you to quickly:
- Create new articles with different media sources (text, images, videos)
- Draft and publish articles that are immediately searchable
- Serve customers who submit common questions to your support team
Klaviyo does not offer a knowledge base solution.
2. Gist offers a complete meeting scheduler suite.
Gist has the ability to schedule your meetings.
With Gist Meetings you can:
- Send the meeting link in your emails to book prospects right then and there.
- Use bots to book meetings for you.
- Schedule a demo for your product/service.
Any meetings you need to set, a scheduler tool makes it easier.
Klaviyo does not have a meeting scheduler solution.
3. Gist Live Chat.
Live chat is exactly what the title states — the ability to have conversations on your site with visitors while they're on your webpages.
With Gist, you have the ability to chat with visitors, leads and current customers. Our live chat also seamlessly works with all the other tools of our platform to help you:
- Nurture new visitors and answer questions on the spot
- Book calls with leads or even get them to purchase
- Answer support questions and even create tickets (with our help desk functionality)
Klaviyo doesn't offer live chat.

As mentioned above, if you want a more in-depth comparison please check out our comparison page here.
---
Need Help?
If you have any questions about moving your business to Gist, please start a Live Chat in the lower right corner!