Ready to leave Zendesk and bring your business to Gist?
Great! We'd love help to build your business using the Gist Platform!
When you join Gist, you will have access to the features you use the most at Zendesk. You will also have access to more features that are only available with Gist.
To help your transition be as smooth as possible, here's what we'll cover:
Important terminology to know. Zendesk and Gist use different terms for similar things. We'll cover what those are before you begin to simplify things a bit more.
Exporting your "end-users" from Zendesk and uploading them to Gist to become "contacts".
Potential questions you may have.
How to move Zendesk "Guide" articles to your Gist Knowledge Base with a single click.
A quick overview of Gist features compared to what you've been using at Zendesk.
Gist Terminology Compared to Zendesk
Perhaps the most important term change is how you refer to the contact data in your list. Zendesk calls everyone who submits a ticket an "end-user". Gist calls all chat and user data on your list "Contacts". In addition to this term, here are a few others you may find useful.
| | |
| --- | --- |
| Gist | Zendesk |
| Contact | End-user |
| Team members | Agents |
| Import contacts | Bulk import |
| Segments | Customer lists |
| Knowledge Base | Zendesk Guide |
Exporting your Zendesk customer data into a CSV file
When you switch from Zendesk to Gist, you have the ability to import your 'end-users' from Zendesk to become "Contacts" at Gist. This is done by exporting those end-users from Zendesk and then uploading a simple CSV file to Gist.
You can import many details of your contacts, including their name, email address, job title, company, location and more.
---
Step #1 - Exporting Zendesk Customer List
Exporting user data from Zendesk can be tricky.
There are two potential ways.
Request the ability to export data from Zendesk. Unfortunately, this option is not available for all plans. At this time, you have to have either a professional or enterprise plan in order to request export capabilities.
Use a Zendesk extension app. There is, at least, one Zendesk app to assist with data exports. It's called "Bulk User Export App Integration".
Here is a quick video showing how to use the Bulk User Export app to download a CSV of your users.
Step #2 - Import to Gist
Next, import your contacts to Gist.
Once you've downloaded your CSV file from Zendesk, you need to import that file into Gist.
This is a simple process that takes less than 2 minutes.
---
You'll be getting more. For Less.
One of the main benefits of moving to Gist is your lower monthly bill. For many, the savings are substantial. You will also have an entire suite of marketing tools with Gist that Zendesk does not offer.
For a more complete comparison please check out our comparison page here.
Potential Questions
1. What about tickets stored in Zendesk?
Tickets can be downloaded from Zendesk in much the same fashion as your users. While you can't upload tickets to Gist, having them in a file format will mean that you no longer require Zendesk's support platform.
2. How do I remove Zendesk Chat from my website?
Zendesk requires users to paste a custom script into the HTML source code of their website. In order to completely remove this from your site, you will have to go to the source code of your website, find and remove that script. Here is an example of the code:
<!-- Start of Zendesk Widget script -->
<script id="ze-snippet" src="https://static.zdassets.com/ekr/snippet.js?key=2ae5f8fb-4df3-430f-b1b9-68efeeca419e"> </script>
<!-- End of Zendesk Widget script -->
You can easily find your custom chat script by going to Admin > Widget > Setup.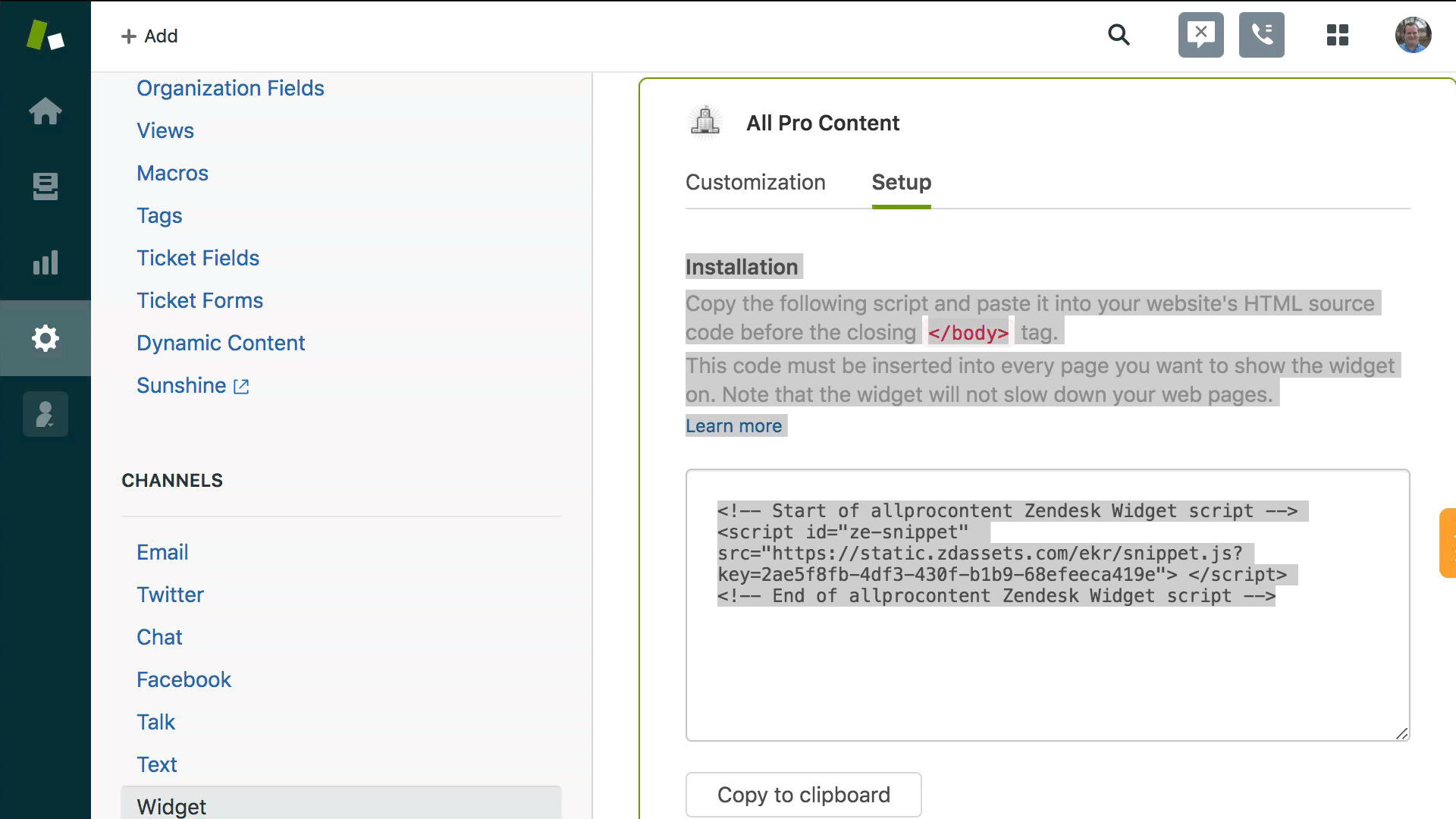 Moving Your Zendesk "Guide" Articles into a Gist Knowledge Base
Gist allows for you to move all of your Zendesk Guide articles to your new Gist Knowledge Base with a single click!
Go to the Knowledge Base tool — Support > Knowledge Base
Click "Import Article" on the top right of the screen
Choose to import from "Zendesk"
Provide the requested information

Current knowledge base homepage URL (please include either http or https in the URL)
Email for the account
API key for the knowledge base account being imported

Choose whether to publish your articles directly, or import as drafts and then hit "Import"
Here is a short video tuturial:
Housekeeping Notes for Importing Knowledge Base Articles
Migration status will be notified via email to User(who imported) and Workspace owner
By default all private articles will be imported as draft and for public articles you may choose whether it should be in drafted or published while importing
The importer will skip the articles that are already imported if user tries to import second time. (But, this will not prevent article duplication if you have already manually created an article with same title and content by copy/pasting an existing article.
After Importing Zendesk articles API key will be removed from our database.
Note: Please enter your knowledge base URL with scheme (http:// or https://) while importing.
If article content has reference of some other articles within their same help centre, it will be replaced by our KB article url automatically.
Importing knowledge base articles is only available with Gist's Support and All-in-One plans


Gist Features (Compared to Zendesk)
Zendesk is great at what it does. For the most part, it does ticketing.
Gist is an all-in-one customer communication and marketing automation platform. Gist helps you grow your business and engage with your customers across their lifecycle. It is a complete marketing and growth stack for your business. Gist offers Live Chat, Email Marketing, Automation, Event tracking, Lead Generation Forms and more.
Here's a simple comparison between Gist and Zendesk, including the differences in features and experience.
1. Gist offers a complete email marketing suite.
Zendesk has a service they call "Connect", which does allow some automation, but it's not an email marketing tool.
It's more like marketing automation with the ability to email. And their automation tools and channels are pretty cool. But again, it's not an email marketing tool.To be clear, there is no way to email a group of people with Zendesk Connect. It has to be done via automation.
Zendesk offers the ability to email customer and prospects, but no way to collect contact data (natively) or email a list.
Gist on the other hand allows for Broadcast emails, Drip Campaign emails and behavioral emails.
2. Gist offers a form creation tool to collect contact data on your website.
Gist forms allow you to collect leads from your web properties. If a visitor is viewing your website on desktop or mobile, you have the ability to capture their contact information.
Gist offers 6 different form types, the ability to add custom forms and set unique display conditions dependent on your needs.
Currently Zendesk does not have a comparable feature.
3. Gist offers a complete meeting scheduler suite.
In addition to the chat feature where Gist matches Zendesk, Gist also has the ability to schedule your meetings.
With Gist Meetings you have the ability to:
- Send the meeting link in your emails to book prospects right then and there.
- Use bots to book meetings for you.
- Schedule a demo for your product/service.
Any meetings you need to set, a scheduler tool makes it easier. Zendesk does not have a meeting scheduler solution.
As mentioned above, if you want a more in-depth comparison please check out our comparison page here.
---
Need Help?
If you have any questions about moving your business to Gist, please start a Live Chat in the lower right corner!