Ready to leave MailChimp and bring your business to Gist?
Great! We'd love to build your business!
When you join Gist, you will have access to the features you use the most at MailChimp. You will also have access to more features that are only available with Gist.
Easily import your MailChimp customer data to Gist.
When you switch from MailChimp to Gist, you have the ability to import your 'contacts' from MailChimp to Gist. This is done by exporting from MailChimp and then uploading a simple CSV file to Gist. You can import the details of your contacts, including their name, email address, job title, company, location and more.
---
Step #1:
Navigate to the Audience tab.
1. If you have more than one audience, click the Current audience drop-down and choose the one you want to work with.
2. Click View Contacts.
3. Click Export Audience.
4. After the export loads, click Export as CSV to download the file to your computer
5. Create the subscriber segment you'd like to export, or leave the filters blank to retrieve your entire list.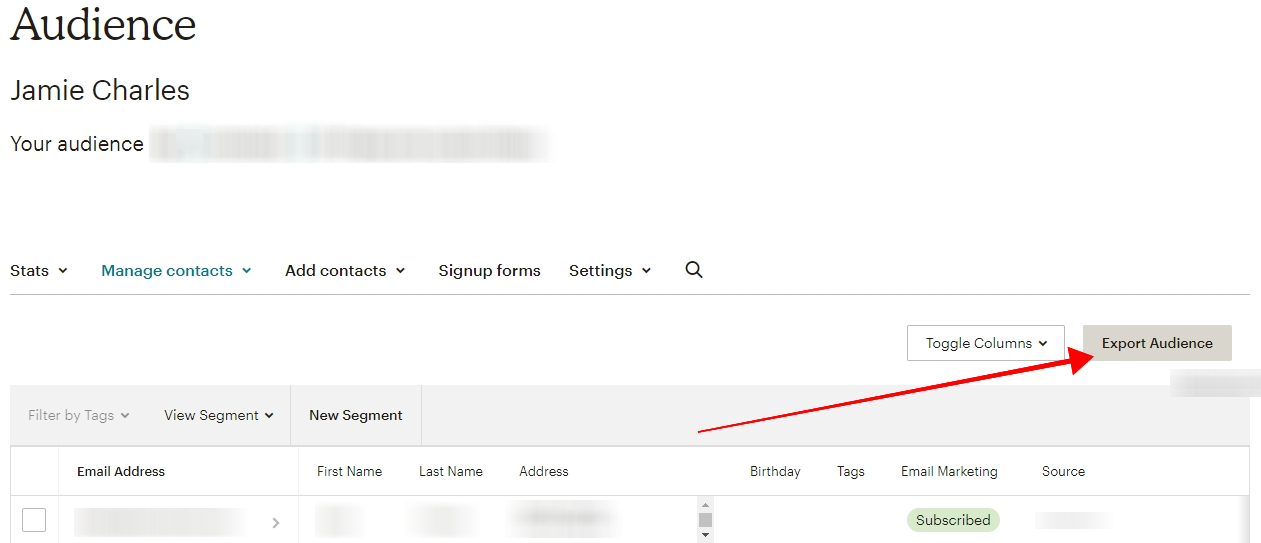 Step #2:
Next, import your contacts to Gist.
Once you've downloaded your CSV file, you need to import that file into Gist.
This is a simple process that takes less than 2 minutes.
---
What to expect when you make the switch to Gist.
For a more complete comparison please check out our comparison page here.
1. Big Money Savings for your Business.
MailChimp is known as the best email marketing tool for those on a budget — and I totally agree.
Up to 2,000 subscribers and 12,000 emails a month totally free forever. Not bad.
However, once you need more from a tool than nice-looking emails and forms, it starts to get pricey.
For the basic plan of $10/mo, you get 500 subscribers and a decent amount of features that weren't available in the free plan.
But if you really want to unlock all of the segmentation capabilities, that starts at $299/mo.
Gist offers more than double the number of tools that MailChimp has and our highest-priced plan is less than half at $128/mo.
Full automation, segmentation, live chat, meetings the works. Everything.
2. Live Chat on Your Website.
Chatting with visitors on your website while they are there is one of the fastest growing communication channels for businesses.
Gist's Live Chat will help you:
Collect contact data, like emails
Get more leads on the phone (with our meeting tool)
Turn client problems around with little to no time
Drip doesn't offer live chat as one of their services.
3. Gist is an all-in-one platform for your business.
Gist is an all-in-one customer communication and marketing automation platform. Gist helps you grow your business and engage with your customers across their lifecycle. It is a complete marketing and growth stack for your business. Gist offers Live Chat, Email Marketing, Automation, Event tracking, Knowledge Base, Meeting Scheduling, Lead Generation Forms and more.
---
Need Help?
If you have any questions about moving your business to Gist, please start a Live Chat in the lower right corner!