Ready to leave Drip and bring your business to Gist?
Great! We'd love to build your business!
When you join Gist, you will have access to the features you use the most at Drip. You will also have access to more features that are only available with Gist.
Easily import your Drip customer data to Gist.
When you switch from Drip to Gist, you have the ability to import your 'contacts' from Drip to Gist. This is done by exporting from Drip and then uploading a simple CSV file to Gist. You can import the details of your contacts, including their name, email address, job title, company, location and more.
---
Step #1:
To export a CSV file of your Subscriber list from Drip:
1. From your account, go to Subscribers.
2. Click List.
3. Create the subscriber segment you'd like to export, or leave the filters blank to retrieve your entire list.
4. Click on the Actions selector.
5. From the selector, click Export to CSV.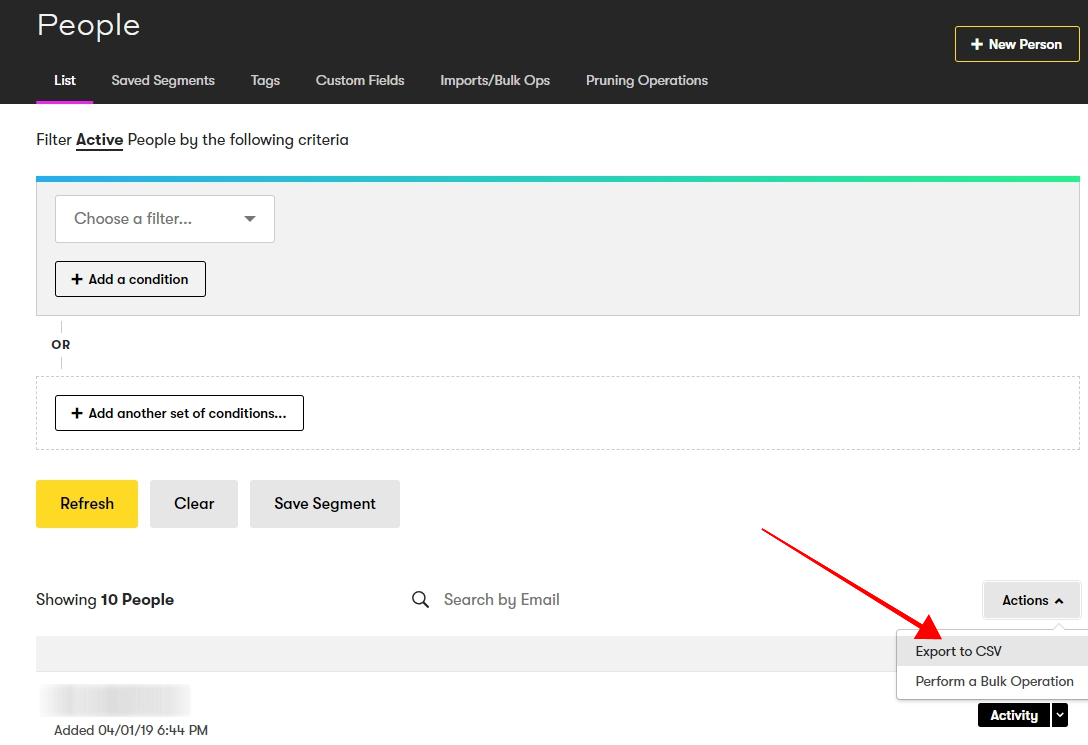 Step #2:
Next, import your contacts to Gist.
Once you've downloaded your CSV file, you need to import that file into Gist.
This is a simple process that takes less than 2 minutes.
---
For a more complete comparison please check out our comparison page here.
1. Big Money Savings for your Business.
Drip and Gist have different pricing models.
Drip's pricing is simple and solely based on the number of subscribers in your email list.
Up to 2500 and it's $49/mo Up to 5000 it's $122/mo 5001+ subscribers and price varies (a calculator is available)
All features seem to be included at every price point.
Gist has three plans.
Free: This is more of a test drive and allows up to 500 subs and limit access to other features. Full live chat is included in the free plan. Standard at $29/mo: This level gives access to support ticketing, qualification bots, knowledge base and more. Pro at $79/mo: Everything is available at our Pro plan level. Full bot creation, automation, everything.
This is kind of apples to oranges comparison in many ways. In terms of overall affordability, Gist is cheaper.
2. Live Chat on Your Website.
Chatting with visitors on your website while they are there is one of the fastest growing communication channels for businesses.
Gist's Live Chat will help you:
Collect contact data, like emails
Get more leads on the phone (with our meeting tool)
Turn client problems around with little to no time
Drip doesn't offer live chat as one of their services.
3. Gist is an all-in-one platform for your business.
Gist is an all-in-one customer communication and marketing automation platform. Gist helps you grow your business and engage with your customers across their lifecycle. It is a complete marketing and growth stack for your business. Gist offers Live Chat, Email Marketing, Automation, Event tracking, Knowledge Base, Meeting Scheduling, Lead Generation Forms and more.
---
Need Help?
If you have any questions about moving your business to Gist, start a Live Chat in the lower right corner!