Send Your First One-Off Email Message
Send Your First One-Off Email Message

By Jitta
updated 7 months ago
One-off email messages are one-off email blasts that are sent out to a predetermined segment of users, at a time of your choosing. You can use one-off email messages to send email newsletters, or product announcements, to notify subscribers of a new post on your blog, etc.
Using Gist, you can create a targeted rich message campaign in minutes, without having to worry about coding or designing templates.
One-off email messages can be sent to specific users, as well as to a user segment.
To send your first one-off email message, log in to your Gist account, and take the following steps.
Step 1: Import Your Contacts.
To start sending emails with Gist, you can import your users from your previous email service provider or CRM, by simply uploading a CSV file.
This is a simple 2 step process:
Import Step 1: Log into your Gist account and click the 'Settings' tab, go to 'Import & Export' section on the left panel and click 'Import history'. Then click on 'Import Contacts'.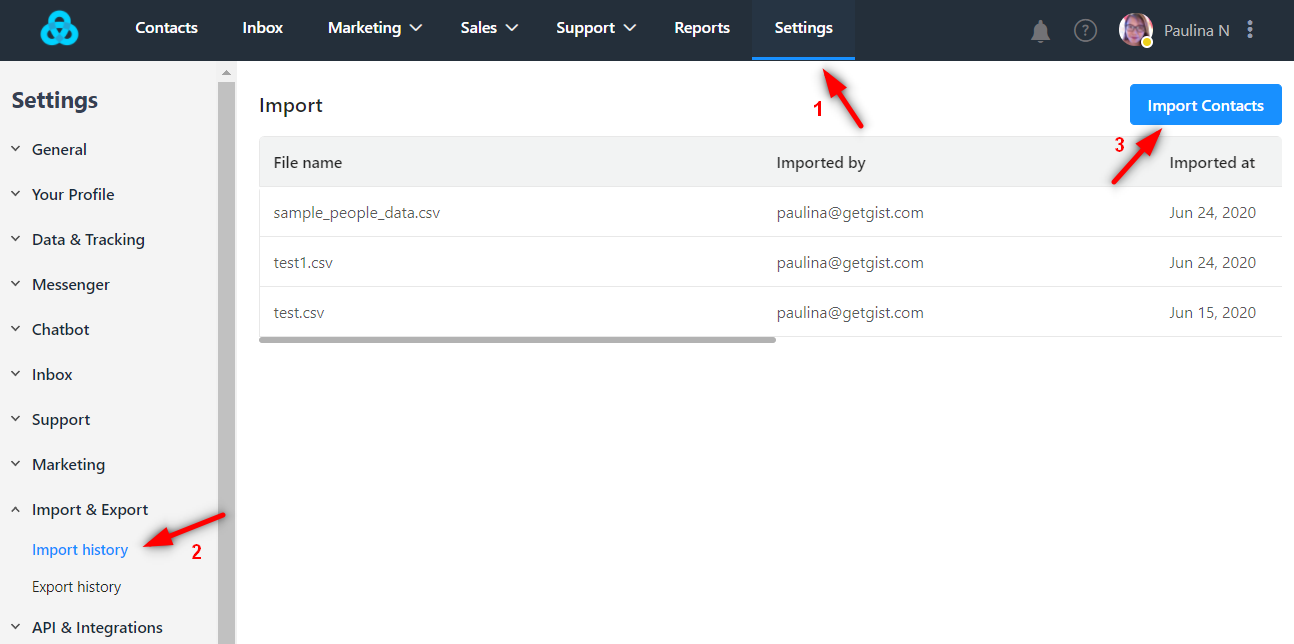 You can also import your contacs from the Contacts page, click on 'More' and select 'Import Contacts'. Here's a guide when importing your contacts.



Import Step 2: Choose your CSV file and configure the upload settings.
Gist will walk you through the "Upload", "Mapping", "Actions" and "Finish".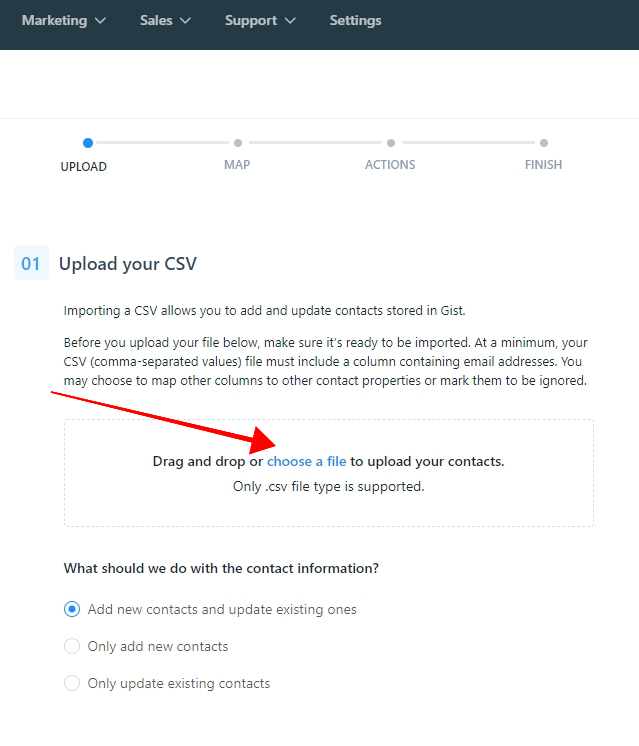 Step 2: Compose your Email.
1. Select which builder and template you would like to use for your email.
2. Customize your using the email composer. You have the ability to include images, buttons and links along with your message.
3. At the bottom, you will be able to preview your email live.
4. Make sure to click on the 'Save' button when you're done with the changes.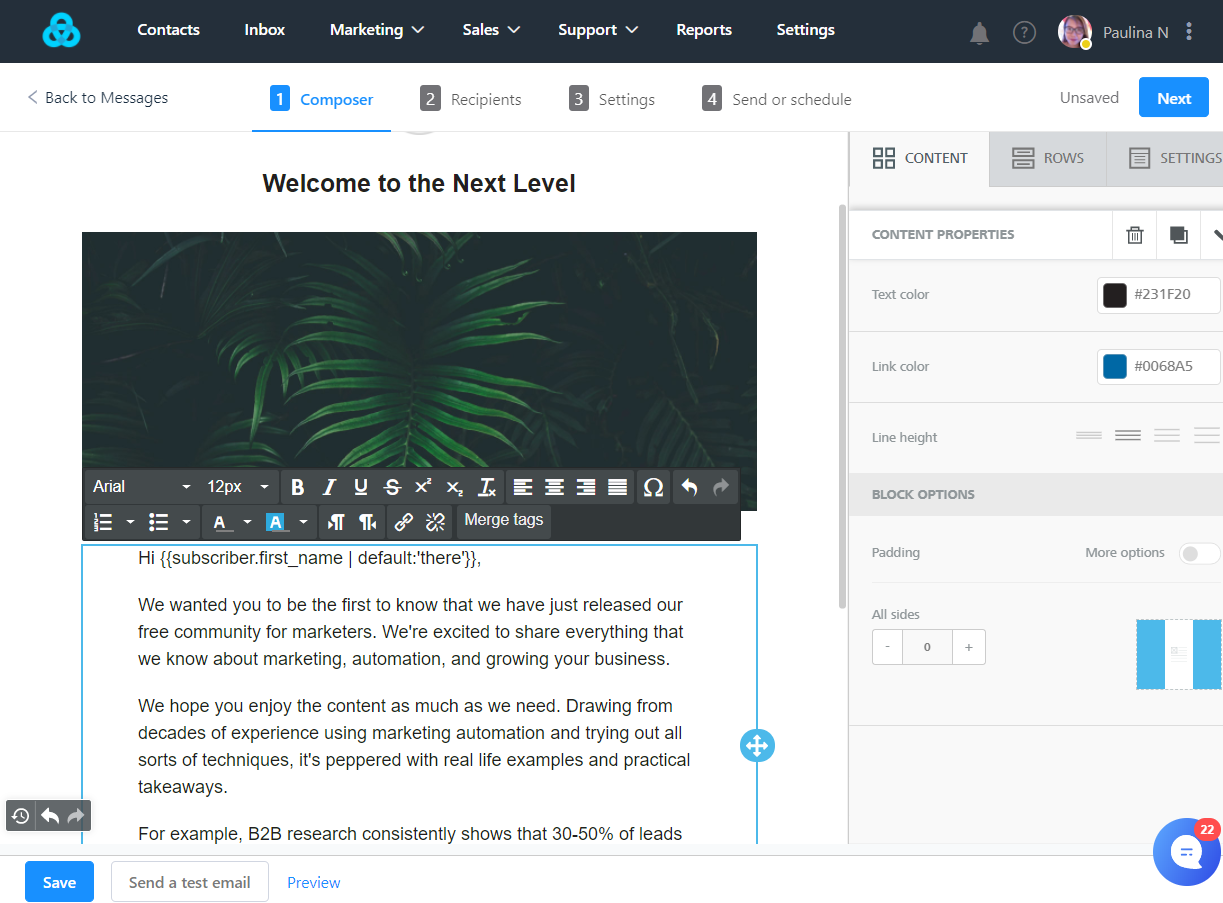 Once you finish writing your email, you can send a test email to an email address of your choice on the bottom of the page.

Step 3: Select who will receive your email.
Choose the audience segment that should receive your email.
If you do not have an existing segment of users that you want, you can create a new segment using the 'Add Rule' option. You can add multiple rules at the same time and can narrow down to desired segment of users.
Once your segment is finalized, you can see a sample list of users who will receive your email.
Step 4: Choose settings for your email.
In the "settings" tab, you have the ability to set and double check important settings. These include the One-off email message (internal) name , the "From" and "Reply to" fields, Email subject, Postal address and more.
Once these settings are finalized, click "next".
Step 5: Send or Schedule the email to be sent.
Once you are ready, you can choose to schedule your one-off email message for later.
Also, it is recommended that you schedule your email to be sent when most of your target audience will be online so that your email stays on top of their inboxes.
If you want to send the one-off email message right away, save it first, and then click the 'Immediately' button.
---
Need Help?
If you have any questions, please start a Live Chat. Just "Click" on the Chat Icon in the lower right corner to talk with our support team.
Did this answer your question?